In March of 1892, Ida B. Wells, a journalist and former Memphis school teacher, started a crusade against lynching after three friends of hers were brutally murdered by a Memphis mob. Tom Moss and two of his friends, Calvin McDowell and Henry Stewart, were arrested for defending themselves against an attack on Moss' store. Moss was a highly respected figure in the black community, a postman as well as the owner of a grocery store. A white competitor, enraged that Moss had drawn away his black customers, hired some off-duty deputy sheriffs to destroy the store.
Moss and his friends,not knowing the men were deputies, resisted. A gun battle broke out and several deputies were wounded. Moss, his two friends, and one hundred other black supporters were arrested. Several nights later, masked vigilantes dragged Moss and his two friends from their cells, took them to a deserted railroad yard, and shot them to death. Enraged by their deaths, Wells lashed out at the refusal of Memphis police to arrest the well known killers. She encouraged blacks to protest with boycotts of white-owned stores and public transportation.
The lynchings were a turning point in Ida B. Wells' life. She began to investigate and reveal the real motivations that lay behind lynching. Like many middle-class African Americans, Wells had accepted the myth that only poor blacks were lynched for heinous crimes. Wells was now shocked into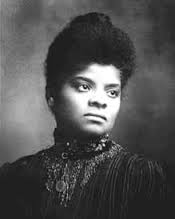 recognizing that even innocent middle-class black people could be targets. As Wells investigated the reasons for lynching, she discovered that a number of victims were lynched not for rape, but for having sexual relations with consenting white women. "Nobody in this section of the community believes that old threadbare lie that Negro men rape white women. If Southern men are not careful, a conclusion might be reached which will be very damaging to the moral reputation of their women."
The suggestion that white women would willingly have sexual relations with black men enraged white Memphis. Since Ida B. Wells did not sign her name to her editorials, the white press assumed a man had written the article. The MEMPHIS SCIMITAR advocated a violent response: "It will be the duty of those whom he has attacked to tie the wretch to a stake, brand him in the forehead with a hot iron and perform upon him a surgical operation with a pair of shears." A mob destroyed Wells' newspaper while Wells was out of town. Forced to remain in the North, Wells launched a national crusade against lynching that would capture the attention of the nation and Europe.
written by Richard Wormser.