Timothy Fortune was a Black journalist and civil rights activist. Fortune was born a slave in Marianna, Florida, pm October 3, 1856. He along with his family were forced to leave their home because of dissent after emancipation.
In 1874, he enrolled at Howard University. Ultimately, he was forced to drop out due to financial reasons and get work for a black weekly newspaper. He returned to Florida after getting married and worked for several newspapers in the area.
Racism in Florida forced him to relocate to New York City in 1881, where he found work at the Globe. During this time, he also wrote a politically motivated book, Black and White: Land, Labor, and Politics in the South. He became a key figure in the Afro-American League, and an early vehicle for civil rights agitation.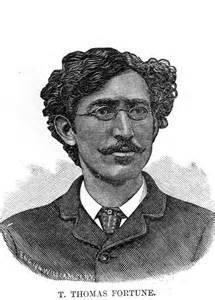 While working for The New York Age newspaper, he worked with Ida B. Wells and offered her work after her Memphis Newspaper was destroyed by a white mob. She was able to publish her exposé of lynching with Fortune's help.
In 1898, Fortune toured the south and reported the worsening conditions of Jim Crow Laws and entrenched racism. During this time, he became friends with Booker T. Washington.
He served as chairman of the National Negro Business League (NNBL), but could not move into the political arena he desired. This was mainly because of Washington's power and need to keep Fortune as an "independent" journalist.
Fortune publicized Tuskegee Institute in The Age and also used his literary skills to polish and promote Washington's views, such as The Future of the American Negro. In 1907, Washington's secret takeover of The Age led Fortune to a nervous breakdown.
In 1914, with The Age deteriorating, Washington was able to get Fortune to return. He remained for three years before moving on and writing for publications in Philadelphia, Indianapolis, Washington, D.C., and elsewhere. Fortune, at one point, was a major spokesman for Black America before the nation's capital. He died in 1928.
sources:
http://www.pbs.org/blackpress/news_bios/newbios/nwsppr/Biogrphs/fortune/fortune.html
https://en.wikipedia.org/wiki/Timothy_Thomas_Fortune
http://aaregistry.org/historic_events/view/tuskegees-point-man-timothy-fortune