Toussaint Louverture was born into an enslaved family on May 20, 1743, on a plantation in Saint-Domingue (Haiti). Details of his early life and education are incomplete, but it's generally agreed that he received an education from his godfather and Jesuit missionaries. He demonstrated a command of French and Kreyol, knowledge of West African and European medicine, and also studied European political and philosophical writings ranging from Machiavelli to Classical Greek writers.
In 1776, he received letters of manumission, freeing him from the bondage of slavery, and reportedly retained a salaried position on the plantation afterwards. In August 1791, Louverture became active in a slave uprising in the north of the colony, joining the group of revolutionaries, and taking part in discussions regarding strategy and negotiations with the revolution's Spanish allies. He also began to train his soldiers in guerrilla combat and European war tactics.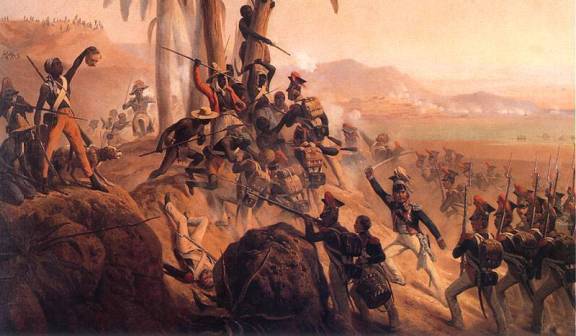 In 1794, the French revolutionary government proclaimed the abolition of slavery on the island. Louverture sided with the French in the subsequent power fight between rebel leaders, chasing supporters of the Spanish from territory his forces held. Louverture subsequently spent the years 1795 and 1796 developing the economic capability of the newly emancipated colony, basing the success of the colony in the future on its capability to maintain a vibrant economy and feed itself.
The closing years of the 1700s were marked by continued power struggles between different factions and revolutionary leaders, Louverture's main antagonist being played by the mulatto André Rigaud, who Louverture accused of trying to assassinate him. Rigaud was subsequently declared a traitor in 1799, and was eventually forced to flee Haiti after his defeat by Louverture's lieutenant, Jean-Jacques Dessalines.
In January 1801, Louverture's forces invaded the Spanish side of the island of Hispañola, taking it with ease and uniting the island. This victory was followed by an invasion by Napoleonic France, which was eventually defeated, but Louverture was arrested and taken to France as a prisoner, dying on April 7, 1803. He told his captors: "In overthrowing me you have cut down in Saint Domingue only the trunk of the tree of liberty; it will spring up again from the roots, for they are numerous and they are deep." Those deep roots are evident in the status of Haiti today as a sovereign country, borne in the struggle for African people for liberty.
Sources:
http://docsouth.unc.edu/neh/beard63/beard63.html
https://archive.org/stream/dublinreview153londuoft#page/86/mode/2up
http://www.hartford-hwp.com/archives/43a/104.html