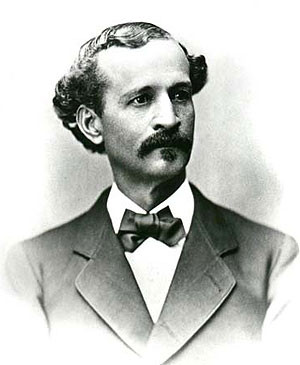 William Jefferson Hardin was Wyoming's first African-American legislator in its territorial days. Hardin served two terms in Wyoming's Territorial Legislature, first in 1879, and again in 1882. Hardin was also an orator, prospector, barber and known bigamist.
Hardin was born in Russellville, Ky., in 1831. His father was white and his mother was a free woman who had one black parent. Hardin was light-skinned, and claimed to be the nephew of a well-known Kentucky statesman, Benjamin Hardin, but this was never proven.
In 1849, he began teaching "free children of color" around the same time he met and married a slave named Caroline. Sometime after 1850, he headed to California, seeking his fortune in gold.
After living for five years in the gold country, he traveled to several states and Canada and eventually moved to New Orleans, La. He began service as a second lieutenant in the 3rd Regiment of the Louisiana Native Guards in December 1862, in the Union Army but working mostly as a sugar cane harvester. Racial tensions ran high during those Civil War days, and the regimental commander who allowed blacks to serve was dismissed. The new commander did not want blacks in the regiment. Much bitterness ensued. In February 1863, the blacks resigned en masse.
Leaving his wife and family in Kentucky, Hardin again went West and spent the next decade working mostly as a barber in Denver, Colorado Territory. He became well-known for his oratorical skills, which he employed in advocating equal rights for blacks, supporting public school integration, and black suffrage. An 1861 territorial law, interpreted liberally, allowed blacks to vote, but an 1864 amendment prevented them from doing so.
In 1865, Hardin requested a public equal rights debate with two candidates for Congress. His persuasive oration caused one of the men to reverse his position and support black suffrage. In 1870, the nation ratified the Fifteenth Amendment to the Constitution, which guaranteed the right to vote to all men, regardless of "race, color, or previous condition of servitude."
In 1873, influential supporters helped him obtain a job weighing gold at the United States Mint. He married a white milliner, Nellie Davidson, that year. However, in July 1873, Caroline K. Hardin arrived in Denver, claiming W. J. Hardin was still married to her and that they had a daughter. She also accused him of having been a draft dodger during the Civil War. Hardin did not deny the charges. He argued that because he had been a minor at the time of their wedding and she had been a slave, their marriage was not valid.
He was not formally charged with bigamy, but he lost his job at the mint. While Hardin believed racial prejudice led to his dismissal, Director of the Mint Chambers C. Davis countered that Hardin was unqualified for his job.
Hardin was nominated at the 1880 Laramie County Republican convention for a seat on the Council but he finished low on the ballot and declined the opportunity to run.
In August 1883, he moved to Park City, Utah, where he operated still another barbershop. He was active in the Congregational Church and the Park City Liberal Party. His final public address, advocating party unity, was given at an 1887 event held for the Liberal candidate for Congress, John M. Young. Hardin ended his life by shooting himself in the heart on September 13, 1889.
source:
http://kgab.com/william-jefferson-hardin-wyomings-first-black-republican-legislator/
http://www.blackpast.org/aaw/hardin-william-jefferson-1831-1889