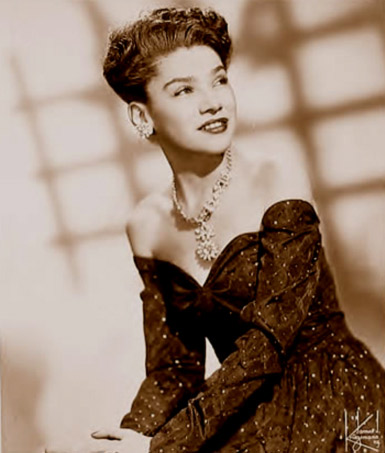 Una Mae Carlisle, a pianist and singer during the 1930s and 1940s, auditioned for the Cotton Club, performed solo, and recorded in Europe. Born on December 26, 1915, to American Indian and black parents, she started singing at the age of three in her hometown of Xenia, Ohio. By the age of 17, she was working at a local radio station.
Fats Waller heard her play and asked her to join his band. He invited her to play on his radio show at station WLW in Cincinnati during Christmas week when Carlisle turned 17.  She was still in high school at the time, and her mother had approved the Christmas vacation in Cincinnati because Carlisle was to stay with her elder sister.
When her vacation was over, she refused to return home, becoming a professional musician working with Waller at WLW. Fats' contract with WLW expired in 1934 and he left Cincinnati for New York. Carlisle's voice can be heard along with Waller's on the recording "I Can't Give You Anything but Love."
When the World War II broke out, she returned to America and recorded various songs for Blue Bird Records, including "Walkin' By The River" and "I See A Million People." During in the early '40s, she became popular on radio; before the decade was out, she had successfully transferred to television.
Her last studio session was for Columbia in New York on May 8, 1950. She retired due to her illness in 1954. Una Mae Carlisle died two years later in November 1956 in New York City.
sources:
http://www.imdb.com/name/nm0137654/bio