Jack L. Cooper is best known as the first African-American radio broadcaster. Cooper was born in Memphis, Tennessee, on September 18, 1888, and was the youngest of 10 children. He was raised in a single-parent home, and by the age of 10, he quit school and moved to Cincinnati, Ohio, to work at a racetrack. Cooper often worked odd jobs to make money to help his family. He was also a successful boxer, winning the Ohio Neger welterweight title in the late 1910s.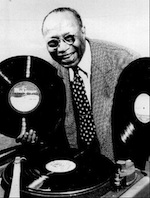 His entertainment career began in the 1920s as a dancer and comic on the Theater Owners Booking Association, a popular African-American vaudeville circuit.
Cooper later found work in radio because of his journalist work. While touring with Madam Lamar Cooper, he wrote for black newspapers in Memphis and Indiana. His work eventually led to a position as an assistant theater editor for the Chicago Defender.
The producer of a show on WCAP in Washington, D.C., hired Cooper to help write and perform comedy skits based on "Negro dialect." The show, although successful, required Cooper to perform a sort of radio minstrel show aimed at white consumers; his role was to creatively mock African American language.
Because of these restraints, Cooper quit his job at WCAP and returned to Chicago with the goal of creating a radio program that would attract a black audience. Cooper developed an idea for a weekly variety show, but had no luck finding a station that would take his show.
In 1929, Joseph Silverstein, owner of WSBC, a low-power station that catered mainly to Chicago's large immigrant population, agreed to air Cooper's The All-Negro Hour.
Cooper soon became known as the Radio Mogul. He built his own radio studio and created a radio advertising agency, which profited from the advertisements of black and white entrepreneurs as well as local entertainers who purchased airtime. By the late 1940s, Cooper produced over 40 hours of radio each week on four radio stations.
Jack L. Cooper died on January 12, 1970, in Chicago. In 2012, Cooper was posthumously inducted into the Radio Hall of Fame.
source:
http://www.aaregistry.org/historic_events/view/chicagos-radio-voice-jack-cooper