Willie O'Ree is best-known as the "Jackie Robinson" of hockey. He was the first Black player in the league's history. O'Ree was born in Fredericton, New Brunswick, Canada. He was the youngest of 13 children and often excelled in his endeavors, whether they were academics or sports. As a child, he remembered only one other black family in the town where he grew up.
At the age of five, he focused on playing organized hockey because "that was the thing to do in the winter." During the winter months, everything would freeze over and his father would make the back yard a skating rink. O'Ree started to compete in sports against white competitors, and as he excelled, he began believing that he could compete at pro levels.
After graduating from the New Brunswick Amateur Hockey Association, he joined the York County Hockey League's Fredericton Merchants. Playing in only six games in the 1951-1952 season, he scored 10 goals and had four assists. He spent the next few seasons traveling back and forth between the Fredericton Capitals Junior and Senior league teams, leading his team to the 1954 Allan Cup tournament, registering seven goals and eleven assists. He joined the Quebec Junior Hockey League's Quebec Frontenacs in 1954-55 and led them to the 1955 Memorial Cup tournament, scoring 27 goals with 17 assists in 43 games.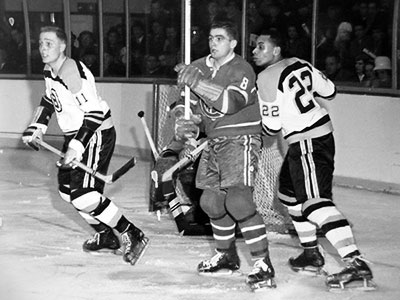 O'Ree took advantage of attending baseball camp in the United States in order to help strengthen his legs for hockey. However, this camp was his first experience in the segregated south, and thus, his first direct experiences with racism and Jim Crow.
A former player for the New York Rangers, Phil Watson was one of Willie's early coaches and saw a great talent in O'Ree. He once told him "Willie, you know, there are no black players in the NHL. You could be the first. You have the skills, you have the ability. All you have to do is work hard." Similar encouragement came from other coaches, such as Punch Imlach, Joe Crozier, and Jack Stewart.
While playing one afternoon, his life and his career changed in an instant. After being cross-checked by an opposing defenseman, he was struck in the eye by a puck that ricocheted off of a stick. His retina was shattered and this resulted in the loss of 97 percent of the vision in his right eye, which had to be removed years later.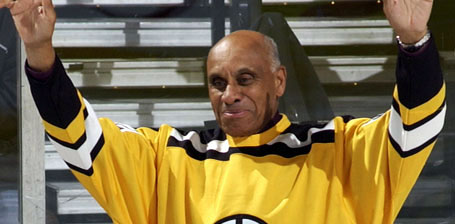 Having been playing left-wing, the injury would make it difficult to keep track of the puck coming into him from his blind side. He was forced to turn his head all the way towards his right shoulder to track it with his left eye. Later in his career, he would switch to the right wing position. Nevertheless, he was able to adjust and became one of the best players in the league.
In 1956, he turned pro and signed with the Boston Bruins minor league affiliate, the Quebec Aces, signing a $3,500 contract with a signing bonus of $500. During his second season with the Aces, O'Ree was called up to the Boston Bruins to replace an injured player and made his NHL debut with the Bruins on January 18, 1958, becoming the first black player in league history. Known for his speed, O'Ree was considered to be one of the fastest skaters in the NHL
In 2000, he was awarded The Lester Patrick Trophy, an annual award presented for outstanding service to hockey in the United States. He was honored on January 19, 2008, by the NHL at TD Garden in Boston to commemorate the 50th anniversary of his NHL debut. The City of Fredericton named a sports complex after him the same week. In 2008, he was honored during the NHL all-star game and then again a few weeks later by ESPN for Black History Month.
sources:
http://www.legendsofhockey.net/LegendsOfHockey/jsp/SearchPlayer.jsp?player=13894
https://en.wikipedia.org/wiki/Willie_O%27Ree