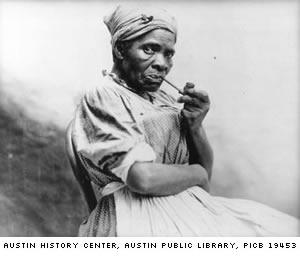 During the 1400s and 1500s, before European slave ships arrived in Africa, the hairstyle was very important to black women. Many would spend hours, or even days, on their hair, using special combs and oils to form locks, plaits, and twists. The adornment of both the head and hair was an essential part of the dress, especially in West Africa, where most blacks in America have their origins.
When slaves were captured, their hair was cut off, to begin the process of eradicating their sense of culture and identity. They were then given head-wraps to use as protection against harsh weather and the spread of head lice. When hair grew back, there was no time to form elaborate hairstyles. Initially, these head-wraps were given to both sexes but later were used exclusively by women. In some places in the South, women were required by law to secure their hair in these wraps.
While the head-wraps signified poverty and inferiority to the slave owners, to the women, they became a source of communal and personal identity. The style in which head-wraps were worn depended on the region, and also differed slightly for each. The wearer would tie her wrap uniquely, developing a style and look that suited her. In this way, the head-wraps gave the women a sense of liberty and empowerment.
Slaves who worked indoors did not need head-wraps and often braided their hair. They were also out of risk of contracting ringworm, which would stop the hair from growing and cause bald patches, which the head-wraps were used to conceal.
In the 1800s, ships stopped bringing slaves from Africa, and the value of slaves increased. Slaves stopped working on Sundays, which gave women time to style their hair. During the week, they would continue to cover their heads with the wrap but would remove it for church. However, they were still unable to regress to the African styles as the combs they had previously used, and palm oil was not available in America. Instead, women had to wash and condition their hair using butter, kerosene and bacon grease and brushed it with the carding combs used for the sheep.
The hair of those in West Africa ranges from anywhere between kinky to loosely curled. During the years leading up to the abolition slavery, many black women wanted to straighten their hair, as "good hair" was considered to be straight. They often used dangerous chemicals, such as lye mixed with potato. The notion "good hair" was fortified by house slaves or free blacks, who frequently had straight hair because they were at least partially white. However, the good fortune of these people was not often due to their looks but rather to the help they received from their white relatives.
Read more http://www.vissastudios.com/back-to-the-basics-what-black-women-used-during-slavery