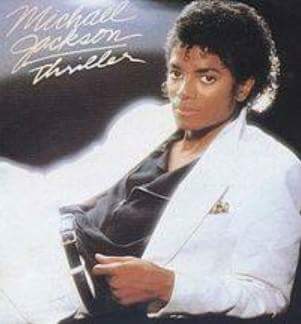 Michael Jackson's 2nd solo album, Thriller, is released worldwide. It will become the best-selling record album in history. It sold 1 million copies worldwide per week at its peak.
In just over a year, THRILLER BECAME-AND CURRENTLY REMAINS-THE BEST-SELLING ALBUM OF ALL TIME, with sales estimated between 65-110 million copies worldwide.
In the United Stares it also tied with Their Greatest Hits (1971–1975) by the Eagles as the best-selling album. The album won a record-breaking eight Grammy Awards at the 1984 Grammys.
Thriller is the 6th studio album by recording artist Michael Jackson. It was released on November 30, 1982, by Epic Records as the follow-up to Jackson's critically and commercially successful 1979 album Off the Wall. Thriller explores similar genres to those of Off the Wall, including pop, R&B, rock, post-disco, and adult contemporary music.
Recording sessions took place between April and November 1982 at Westlake Recording Studios in Los Angeles, California, with a production budget of $750,000, assisted by producer Quincy Jones.
Of the nine tracks on the album, four of them were written by Jackson himself. Seven singles were released from the album, all of which reached the top 10 on the Billboard Hot 100. Three of the singles had music videos released. "Baby Be Mine" and "The Lady in My Life" were the only tracks that were not released as singles.
Thriller enabled Jackson to break down racial barriers via his appearances on MTV and meeting with President of the United States Ronald Reagan at the White House. The album was one of the first to use music videos as successful promotional tools—the videos for "Thriller", "Billie Jean" and "Beat It" all received regular rotation on MTV. In 2001, a special edition issue of the album was released, which contains additional audio interviews, a demo recording and the song "Someone In the Dark", which was a Grammy-winning track from the E.T. the Extra-Terrestrial storybook. In 2008, the album was reissued again as Thriller 25, containing re-mixes that feature contemporary artists, a previously unreleased song and a DVD.
Read more about this legendary album at: Daily Black History Facts