Gaspar Yanga was born around 1545 as part of the Gabonese royal family but he would go down in history as one of Mexico's heroes. It's not known when he was captured, but he was transported to Mexico. At the time Mexico was a large part of New Spain and had a very large population of slaves.
YANGA'S COLONY
In what is now Veracruz, the southeastern coast of Mexico, Yanga and a group slaves escaped in 1570. Basing themselves in an area with a strategic advantage, they established a Maroon colony. The location gave Yanga's group relative safety and for over 30 years served as a safe haven for escaped slaves.
Given that the colony couldn't engage in commerce with other villages and merchants, Yanga's group targeted caravans on the Royal Road which ran from Veracruz to Mexico City. The Spanish government had enough of taking financial loses and sent out the military to regulate the area in 1609.
SPAIN ATTACKS
Marching from Puebla at the start of the year, Pedro Gonzalez de Herrera and his 550 troops headed to Veracruz. His force was made up of 100 trained soldiers and was bolstered with others. Meanwhile, the Maroons had a similar force of 100 trained fighters and 400 fighters who weren't armed with guns. Yanga didn't lead his forces but directed their actions. The objective was to stall them out via the Maroons' knowledge of the land and the tactical advantage of higher ground.
Before the battle began, Yanga gave the Spanish his conditions. He wanted the area to be a self-ruled area that would pay the Spanish and support the crown if attacked. To sweeten the pot, Yanga agreed to return slaves who escaped into his lands.
As expected the Spanish rejected these terms and outcome was massive loses for both armies. In the end,  the Spanish marched on the Maroon colony and set it on fire. Since most of the Maroons managed to escape into the woods and brush the battle was essentially a draw.
OUTCOME
Gaspar Yanga's strategy eventually worked. The Spanish were stuck in a deadlock with the Maroons for years and agreed to meet with Yanga's forces. The terms were agreed to in 1618 as was Spain's added terms of Franciscan priests being allowed to convert the Maroons. Twelve years later the settlement became the town of San Lorenzo de los Negros de Cerralvo. By 1871 Gaspar Yanga was recognized as a Mexican national hero given the title "El Primer Libertador de las Americas."
In 1932, San Lorenzo de los Negros de Cerralvo was renamed Yanga. Today Veracruz is the Mexican state with the highest concentration of people of African descent.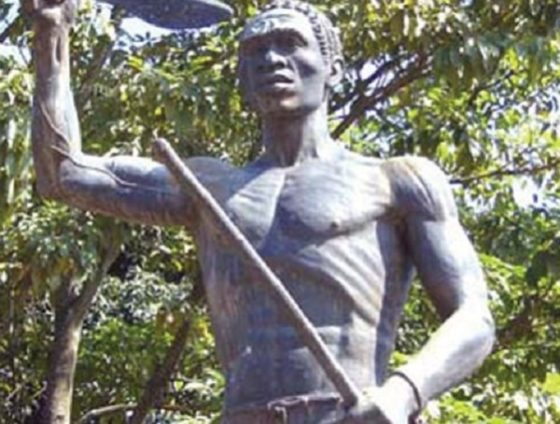 SOURCE: http://www.blackhistoryheroes.com/2011/05/gaspar-yanga-1570-african-slave-revolt.html