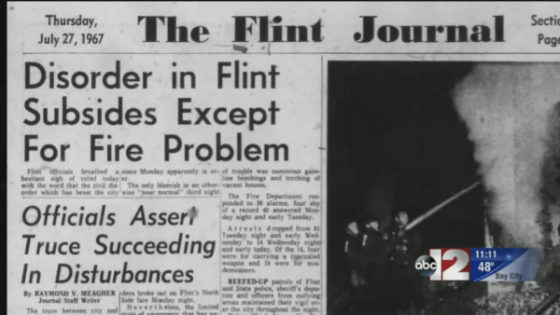 The 1967 Flint, Michigan Riot was among the urban disturbances that occurred during what has been referred to as the "long hot summer" of 1967.
More than 49 people were slain or died in fires or accidents during several chaotic days in July 1967. The riots started when the police raided an after hours bar on the today's Rose Parks Boulevard and lasted for about 5 days. At 10 p.m. on July 24, in the largely black areas of Flint, vehicles were stoned, businesses were firebombed, and store windows were smashed. This resulted in a state of emergency being declared by Flint Mayor Floyd J. McCree, ironically the first African American to hold the post.
McCree's order stated that no liquor or gas could be bought and only law enforcement could carry weapons in the city. One hundred two people were arrested for their part in the disturbances and the Flint fire department responded to 40 calls.
Mayor McCree summoned local public officials together including the county prosecutor, Robert F. Leonard. During the meeting local black leaders cautioned that greater unrest could result if responses to the concerns of the black community were not heard and acted upon. In an attempt to diffuse the situation, Leonard released those who had been arrested under the condition they return to their communities and try to restore peace. Flint police officers were enraged at the prosecutor's decision but his gamble paid off when further violence was avoided in the city.
source:
http://www.blackpast.org/aah/flint-michigan-riot-1967