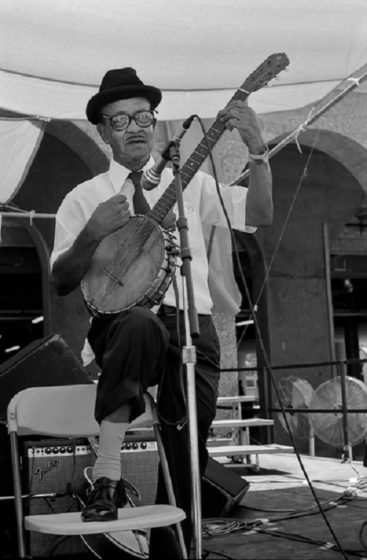 Daniel Moses Barker was an American jazz musician, vocalist, and author from New Orleans. He was a rhythm guitarist for various bands of the day, including Cab Calloway, Lucky Millinder and Benny Carter throughout the 1930s.
Barker was born on January 13, 1909, in New Orleans, LA. Born into a musical family, his interest in jazz came early. His grandfather, Isidore Barbarin, had been a member of the great Onward Brass Band. Clarinetist Barney Bigard, who played with Duke Ellington, gave Danny lessons in clarinet. His uncle, the great jazz drummer Paul Barbarin, also taught him how to play the drums. Nonetheless, when it came to playing music, Danny settled on the banjo and guitar as his favorite instruments.
In 1930, he married Louise Dupont, who sang blues and was better known as "Blue Lu" Barker. The couple moved to New York that year where he led the life of a jazz musician; working the clubs and doing session work.
During the late 1930s, Barker recorded with Decca Records. Along with his wife Blue Lu, he wrote her best known hit, "Don't You Feel My Leg" a risqué tune recorded as "Don't You Make Me High". Also in that year, he joined Benny Carter's Big Band. The following year, he became rhythm guitarist for Cab Calloway's Big Band and played and recorded with Calloway until the late 1940s.
By the mid 1960's, he and his wife decided to return to New Orleans and keep the traditions associated with jazz music alive by lecturing on traditional jazz history. He founded the Fairview Baptist Church Band to continue the marching band tradition. Barker suffered from diabetes throughout most of his adult life, and was often in general poor health. He died of cancer in New Orleans on 13 March 1994 at age 85.
source:
http://w.collegiateacademies.org/page/53/notable-african-americans-from-louisiana
https://en.wikipedia.org/wiki/Danny_Barker