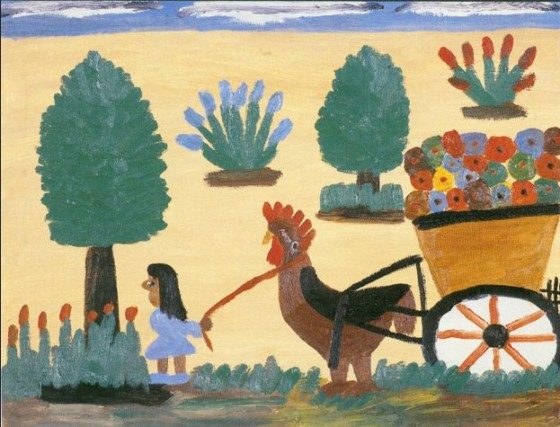 Clementine Hunter was a self-taught African-American folk artist from the Cane River region of the U.S. state of Louisiana, who lived and worked on Melrose Plantation. She is the first African-American artist to have a solo exhibition at the present-day New Orleans Museum of Art.
Hunter was born around 1886 and was the granddaughter of a slave. She was the eldest of seven children to Creole parents. Her given name was Clemence, but she changed it after moving to Melrose Plantation. Hunter spent the majority of her life picking cotton, she attended school for only ten days, never learning how to read or write.
Hunter was self-taught. Melrose Plantation became a mecca for the arts under the guidance of its owner, Cammie Henry. Numerous artists and writers visited, including Lyle Saxon, Roark Bradford, Alexander Woollcott, Rose Franken, Gwen Bristow, and Richard Avedon. She became one of the most well-known self-taught artists and was often referred to as the black Grandma Moses.
She painted from memory and is credited as an important social and cultural historian for her documentation of plantation life in the early 20th century. Hunter was noted for painting on anything, mainly discarded items such as window shades, jugs, bottles, and cardboard boxes.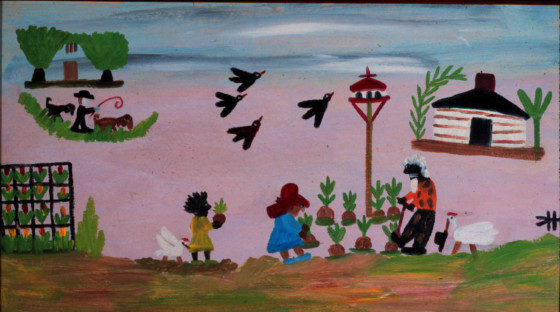 She became a respected artist and is today considered a folk art legend, however, Hunter spent her entire life in or near poverty. In the 1940s, she sold her paintings for as little as a quarter.  By the 1970s, she was charging hundreds of dollars for a painting. By the time of her death, her work was being sold by dealers for thousands of dollars. Hunter rarely titled her works, but when asked a title, would describe the subject of the painting.
Hunter was the first African-American artist to have a solo exhibition at the Delgado Museum (now the New Orleans Museum of Art).  She achieved significant recognition during her lifetime, including an invitation to the White House from U.S. President Jimmy Carter and letters from both President Ronald Reagan and U.S. Senator J. Bennett Johnston, Jr. Clementine Hunter died on January 1, 1988.
sources:
https://www.britannica.com/biography/Clementine-Hunter
LSU Museum of Art and LSU Press Celebrate Artist Clementine Hunter