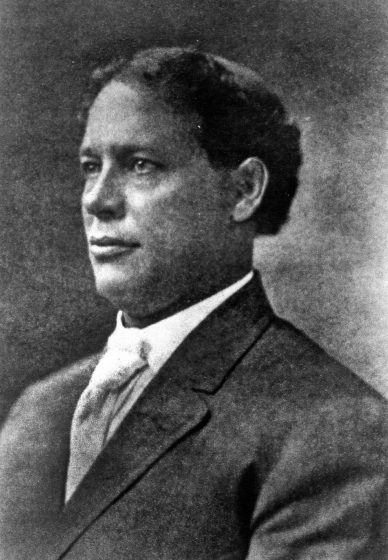 Andrew N. Johnson, known as "A. N." throughout his life. He was an influential journalist, mortician, and Republican Party official in Mobile, Alabama and later in Nashville, Tennessee.
Johnson was born in Marion in Perry County in December 1865. He studied at the state normal schools in his hometown and in Montgomery and at Talladega College in preparation for a teaching career. In 1886, after completing his college studies, he married Lillie A. Jones, of Marion, with whom he had two sons, Lorenzo and Andrew Jr.
Between 1886 and 1889, Johnson served in north Alabama as a railroad postal clerk. He did not hold the position long, most likely because of his political activities in the late 1880s as chairman of the Bibb County Republican Executive Committee. U.S. Civil Service regulations prohibited federal employees from participating in the partisan political cause.
During the fall of 1889, local white authorities in Blocton, Bibb County accused Johnson of instigating a "race war" by arming black citizens with rifles. A group of local blacks had merely established a Masonic lodge, of which Johnson was a member, and whites grew threatened by their organizing. Johnson was shocked to hear about the allegations. Although he was not charged with any criminal offense, the episode would become the first of several well-publicized, racially charged incidents in which he became embroiled during his life.
Johnson became editor of the Mobile State Republican in 1891, a newspaper known for its advocacy of African Americans' constitutional rights and its opposition to Bourbon Democrat politics. In 1894, he established the Mobile Weekly Press. In June 1895, he joined a small chorus of African American journalists who decried Booker T. Washington's refusal of asylum on the Tuskegee Institute campus to Thomas Harris, a wounded black man fleeing from a white mob.
In 1896, he used profits from the Weekly Press to rent a white mortician's hearse and established a funeral home. He made quite a name for himself and in eight years time, he was financially secured. By 1902, Johnson had 15 employees on his combined payrolls in Mobile and was earning more than $20,000 annually from his businesses in Mobile and Memphis.
By the spring of 1909, he was serving as president of Tennessee's black Embalmers and Undertakers Association. Within four years he opened the Majestic Theater and became director of Nashville's black Board of Trade. Despite his own remarkable financial success, Johnson evinced little empathy for less fortunate black businesspeople and often launched aggressive public attacks via the Weekly Press on his competitors.
Until his death in 1921, Johnson divided his time between Mobile and Nashville and maintained residences in both cities. He devoted his remaining years to charitable relief efforts for poor African Americans.
source:
http://www.encyclopediaofalabama.org/article/h-2144