BY WALTER OPINDE 
On 12th September, 1992, Jemison Carol Mae becomes the first African-American female astronaut to fly into space, aboard the Endeavour Space Shuttle, mission STS47. She was in the space for 190 hours, 30 minutes, and 23 seconds. In recognition and acknowledgement of her accomplishments, Jemison Mae has received several awards and honorary doctorates. She holds more than ten honorary doctorates in engineering, science, humanities, and letters. Currently, she is the principal at the 100 Year Starship organization.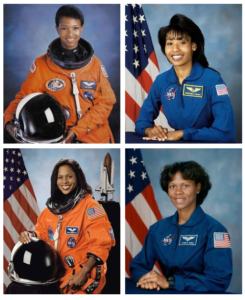 Mae Jemison was born on the 17th day of October, 1956, in Decatur, Alabama. However, the family later moved to a new residential place in Chicago, Illinois, when Carol was just three years of age. This relocation was aimed at taking advantage of better educational and employment opportunities found in Illinois. This is the place where Dr. Jemison currently confesses to be her original place to call 'home'. As a young girl when she was growing in Chicago, always assumed and prayed that she would one day get into space. Her prayers were answered, and she grew to become a physician, engineer, and NASA astronaut. She became the first black woman to travel into space when she flew into orbit aboard the Space-Shuttle "Endeavour" on 12th September, 1992.
After attending a medical school and a short-term general practice, Jemison further served in the 'Peace Corps' between 1985 and 1987. In 1987, when she was selected by NASA team to join the astronaut corps, and later resigned, in 1993, from NASA to start her company that conducts research on the applications of modern technology to the daily human life. Besides her professional life, Jemison is also an actress and a dancer.
Upon obtaining her M.D. in 1981, Mae went through an internship at the University of Southern California Medical Center. She later worked as a general practitioner, and for the next two years, she was the area "Peace Corps" medical officer for Liberia and Sierra Leone, where she also taught and conducted medical research.
Jemison's return to the U.S. in 1985 saw her take a career change when she finally decided to pursue the dream she had nurtured since her childhood. In October of that year, she applied for admission to NASA's astronaut training program. Jemison was one of the fifteen selected candidates out of the other 2,000 competing colleagues. When she was chosen on 4th June, 1987, she became the first Black woman admitted into the NASA's astronaut training program, and five years later, she became the first female from the black community to become a NASA astronaut on a space mission. During her 8 days in the space, she conducted experiments on motion sickness and weightlessness on the crew and herself. She spent approximately 190.5 hours in the space before returning to Earth on 20th September, 1992.
Following her historic space flight, Carol J. noted the importance giving equal opportunities to both women and members of the minority groups for their equal contributions. In recognition of her achievements, Jemison has received several awards accolades, including many honorary doctorates. As well, she was, in 1990, named the "Gamma Sigma Gamma Woman of the Year." After her resignation from the astronaut corps in March, 1993, Jemison assumed the role of teaching fellowship at Dartmouth. She later founded the Jemison Group- a company that seeks to research, develop, and market advanced technologies in the modern era.
Read more of the story from: https://www.jsc.nasa.gov/Bios/htmlbios/jemison-mc.html
Sources
Burby, Liza N. Mae Jemison: The First African American Woman Astronaut. The Rosen Publishing Group, 1997.
Sakurai, Gail. Mae Jemison: Space Scientist, Scholastic Library Publishing, 1996