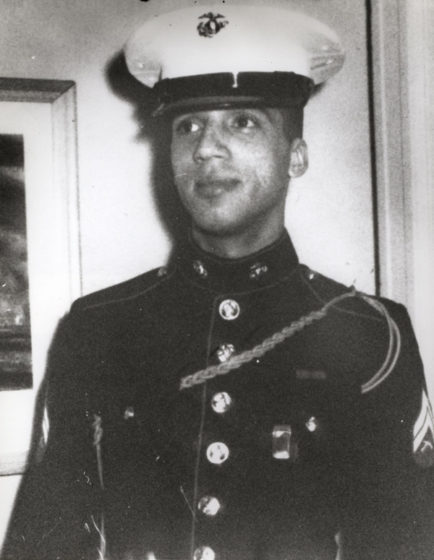 Rodney Maxwell Davis was a United States Marine sergeant who was posthumously awarded the Medal of Honor for heroism above and beyond the call of duty in 1967, during the Vietnam War.
Davis was born on April 7, 1942, in Macon, Georgia, to Gordon N. Davis and Ruth A. Davis. He attended elementary school and high school there and graduated from Peter G. Appling High School, May 29, 1961.
Shortly after graduating high school, Davis enlisted in the United States Marine Corps in his hometown, August 31, 1961; then reported for recruit training with the First Recruit Training Battalion Marine Corps Recruit Depot Parris Island, South Carolina.
He then joined Company K, 3rd Battalion, 2nd Marines, 2nd Marine Division, FMF, at Camp Lejeune and served as a rifleman until May 1964. While stationed at Camp Lejeune, he was promoted to Private First Class, and to Lance Corporal, January 1, 1964.
Lance Corporal Davis was sent to London, England, for a three-year tour of duty as Guard with the United States Marine Detachment, Naval Activities. He was promoted to Corporal, January 1, 1966, and to Sergeant, December 1, 1966.
In August 1967, Lance Corporal Davis was later ordered to the Republic of Vietnam, where he was assigned duty as a Platoon Guide with Company B, First Battalion, Fifth Marines, First Marine Division. On September 6, 1967, he was operating with his unit in the Quảng Nam Province on a search and clear mission during Operation Swift, when they were attacked by a large North Vietnamese force.
The platoon was pinned down in a trench line by mortars, heavy automatic, and small arms fire. Lance Corporal Davis went from man to man encouraging them on and also returning fire at the same time. An enemy hand grenade fell in the trenches where his men were fighting and without hesitation, Davis threw himself upon the grenade. He saved his fellow Marines in this selfless act and thus earned the nation's highest military decoration: the Medal of Honor.
sources:
http://aavw.org/served/homepage_davis.htmlk