Slaves who ran away from plantation life feared that they would hear the sound of hound dogs catching up to them. Interviews with former slaves have reiterated the fact that, despite the threat of other wild animals while being on the run, it was the use of trained dogs that worried them the most. Bloodhounds were first imported not just for their tracking skills, but for their strength in apprehending the slaves.
Former slaves claimed masters, patrollers, and hired slave catchers would use "savage dogs" trained to hunt and follow the scent of fugitive slaves. There were also slaveholders who confirmed the stories of the former slaves. Bennett H. Barrow, a slaveholder from Louisiana, kept a detailed diary and frequently mentioned the importance of dogs in capturing runaways, as well as the terrible violence they could inflict.
Slaveholders trusted using dogs as many of them were afraid to hunt slaves without them. The "maroons" were considered the most dangerous group, and the most feared. Although dogs played a significant role in the recapture of slaves, the slaves planned their escape with them in mind.
The slaves used many methods to throw their scent off from the hounds. Some used rabbit grease on their feet and others would travel through muddy water. Then there were slaves that met the dogs head on with knives and whatever else they could carry along to fight back. However, those who carried nothing to fight bloodhounds often endured the bloodiest fight of their lives. Bloodhounds were trained to tear into slaves and, in some cases, fight until the death.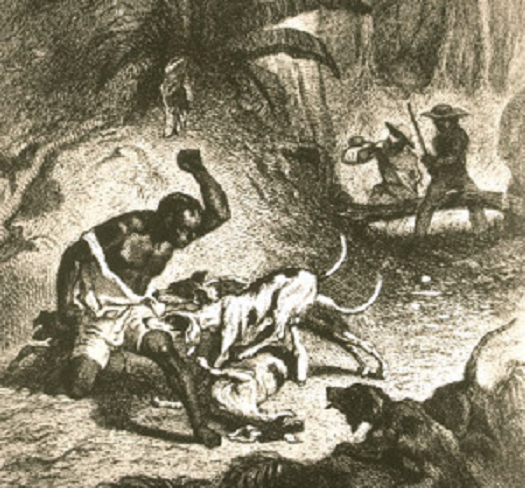 sources:
http://spartacus-educational.com/USASrunaways.htm
Slavery and Dogs in the Antebellum South