Smiley Lewis was on of the greatest New Orleans R&B artists of the 1950s. Lewis was born Overton Lewis Lemmons in DeQuincy, Louisiana, to Jeffrey and Lillie Mae Lemons. He was the second of three sons. His mother died while he was a child, and later Lewis named a song and several automobiles after her. In his mid-teens, he hopped onto a slow-moving freight train with some friends, who jumped off when the train began to speed up. Lewis alone remained on the train, getting off when it reached its stop in New Orleans.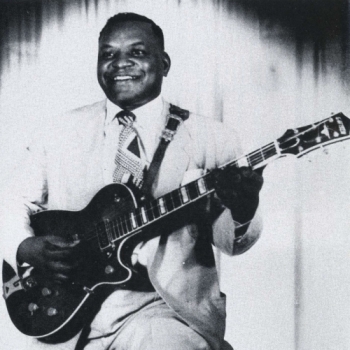 Lewis began playing in clubs in the French Quarter and "tan bars" in the Seventh Ward, at times he was billed as "Smiling Lewis, "a variation of the nickname earned by his lack of front teeth, and often accompanied by the pianist Isidore "Tuts" Washington, with whom he played in Thomas Jefferson's Dixieland band in the mid-1930s.
By 1947, he had built a strong following, enough to merit a session for DeLuxe Records, which issued his debut 78, "Here Comes Smiley." Then Lewis signed with Imperial in 1950, debuting with Tee-Nah-Nah and things began to move.
Lewis had his first national hit song with "The Bells Are Ringing" in 1952. In 1954, he recorded the original version of Bartholomew's song "Blue Monday;" Fats Domino's recording of the song was a hit two years later. In 1955, he achieved his biggest sales with "I Hear You Knocking," the first recording of the song with Huey Smith playing the piano.
Lewis rocked hard all during the early 1950s with hit songs "Lillie Mae," "Ain't Gonna Do It," and "Big Mamou." In an attempt prompted by Imperial Records president Lew Chudd to attract new record buyers in 1957, Lewis recorded pop and country songs. However, this did not go over well with the listeners and fans. The experiment failed and did nothing to boost Lewis's declining record sales, he was released from the label.
Lewis was hospitalized in 1965 with a diagnosis of ulcer; surgery revealed that he had stomach cancer. Bartholomew organized a benefit for him at La Ray's on Dryades Street. On October 7, 1966, three days before the benefit, Lewis died.
sources: