Born October 17, 1947, in Newark, New Jersey, James Scott's early life isn't well documented outside of time in a reformatory. It was while doing a stint at Trenton State that he entertained boxing. After his 1968 release, he returned to crime which resulted in him returning.
Boxing Career
With several years to stay out of trouble and rehabilitate, Scott decided on the prison's boxing program as an active competitor. He showcased a lot of skill in the ring becoming the prison system's light heavyweight champion.
When he was granted parole in 1974, he entered boxing professionally. James Scott was incredibly active from 1974 to 1975 going 11-0-1 in his fights from the Miami Beach Auditorium. His involvement in robbery and murder saw him put on trial in the later part of the 1970s. Scott managed to dodge the murder charge with a hung jury but would have to do time for robbery.
After some time away from the ring, he returned in 1978 and resumed his winning ways, racking up mostly knockout victories. The World Boxing Association decided to recognize Scott's career in prison so all fights from 1978 until his 1981 retirement took place at Rahway Prison.
While his fights were aired on two of the three big networks of the time, it would be ABC who declined to feature his matches because of concerns about his felony conviction. This would be the reason the WBA eventually removed him from the official rankings in 1979–that and the council felt that his opponents were disadvantaged by having to fight in a prison.
Late Career
There was still some chance to return to the rankings and that rested on the outcome of the Everett Russ murder trial. As it would turn out, in January 1981 he was found guilty and sentenced to life two months later. His career now officially over, he would finish out his last two matches for 1981.
In his retirement bout, James Scott would lose to former protege Dwight Muhammad Qawi in a 10 round decision. His career ended 19-2-1 with 11 knockouts and an induction into the New Jersey Boxing Hall of Fame in 2012. After 27 years, he was released at the age of 58 in 2005. Scott currently suffers from dementia and is living in a nursing home.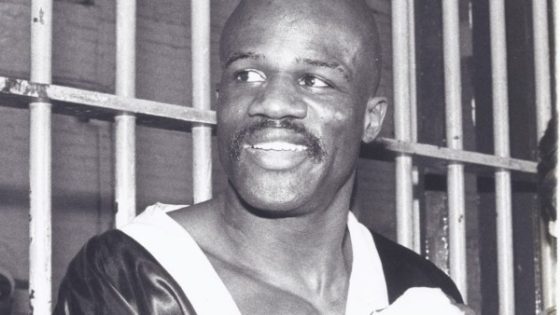 REFERENCE
–http://www.sbnation.com/longform/2014/3/12/5496096/james-scott-jailhouse-boxer-profile
–http://boxrec.com/en/boxer/2347
SELECTED BOUTS
-vs. Eddie Gregory (1978): https://www.youtube.com/watch?v=3y5qZUSF244
-vs. Yaqui Lopez (1979): https://www.youtube.com/watch?v=TNf7FzbLDSE