Known as the "Black Marilyn Monroe" and "The Bronze Blond Bombshell," Joyce Bryant is a singer and actress who has made an enormous impact on the entertainment world. During the late 1940s and early 1950s, she became a sex symbol with her signature skin tight mermaid dress and silver hair.
Bryant was the oldest of eight children born and raised in California. She didn't always have dreams of becoming an actress. As a teenager, she had her eyes set on becoming a sociology teacher. She eloped at age 14, but the marriage ended the same night.
Her first performance was a result of a dare in 1946. Bryant and her cousins went to a local club, and she agreed to participate in an impromptu sing-along. She was offered $25 dollars by the club owner to perform, and since she needed the money, she decided to go up on the stage to sing.
During the late 1940s, Bryant slowly acquired a series of regular gigs, from a $400-per-week engagement at New York's La Martinique nightclub to an 118-show tour of the Catskill Mountains hotel circuit. One night, she performed the same time as Josephine Baker. Not wanting to be upstaged, she decided to dye her hair silver using radiator paint and a tight silver dress and silver floor-length mink. From then on, that signature look plus her four-octave range propelled her into one of the most prominent entertainers of the early 1950s.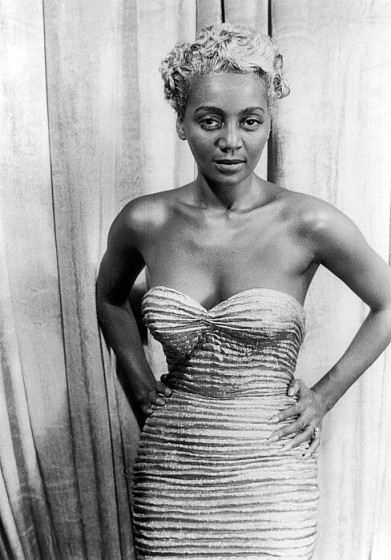 Like many African-Americans during that time, Bryant faced discrimination because of her race. She consistently fought for fair billing practices for performers of color. Her sex appeal didn't always work to her advantage; although the artist was called the "Black Marilyn Monroe," her records were often banned from radio waves because of their suggestive nature. However, she did not allow that to stop her from performing. In 1952, she became the first black entertainer to perform at a Miami Beach hotel, even after receiving threats from the Ku Klux Klan.
Despite it's reputation for segregation, in 1954, she became one of the first black singers to perform at the Casino Royal in Washington, D.C. That year, along with Lena Horne, Eartha Kitt, Dorothy Dandridge, and Hilda Simms she was named one of the five most beautiful black women in the world by Ebony magazine.
Eventually, Bryant grew weary of working in the entertainment industry. Due to her religious background as a Seventh-Day Adventist, she was unhappy with her image and disliked working on the Sabbath. Between the easiness she felt with the industry, the drug subcultures, and the abusive men who frequented the clubs, Bryant briefly retired from her show business.
During her time away from the stage, she wanted to focus on her relationship with God and on the civil rights movement. Her church was unconcerned with matters of racism and discrimination, so she became disilusioned and returned to show business. In the 1960s, she toured internationally with the New York City Opera, and in the 1980s, she returned to jazz music and became a vocal instructor. A documentary about her life called, "Joyce Bryant: The Lost Diva," is in progress.
source:
http://www.allmusic.com/artist/joyce-bryant-mn0001408652/biography