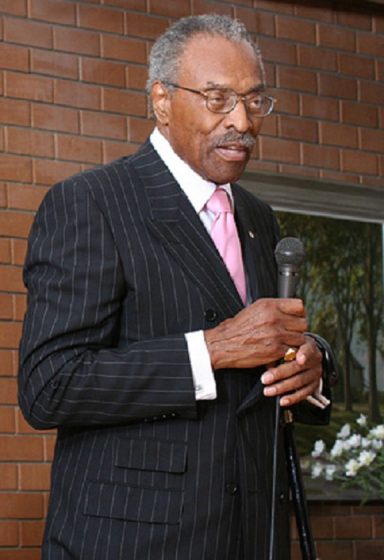 Lincoln MacCauley Alexander was a Canadian lawyer who became the first black Member of Parliament in the House of Commons. He was also the first black federal Cabinet Minister, first black Chair of the Worker's Compensation Board, and the 24th Lieutenant Governor of Ontario from 1985 to 1991. In addition to his many firsts, Alexander served as governor of the Canadian Unity Council and was Chancellor of the University of Guelph from 1991 to 2007.
Alexander was born in a row house Toronto, Ontario. He was the oldest son of Mae Rose, who emigrated from Jamaica, and Lincoln MacCauley Alexander, Sr., a carpenter by trade who worked as a porter on the Canadian Pacific Railway.
Alexander attended Earl Grey Public School where he was the only Black in his kindergarten class. In his memoir, he noted that he earned the respect of his classmates by sometimes having to fight. While still in his teens, Alexander's mother left his father and moved to Harlem. In New York, he attended DeWitt Clinton High School.
In 1939, after Canada declared war on Germany, his mother sent him back to Toronto to live with his father. It was during this time, Alexander met Yvonne Tody Harrison at a dance, and the two later married.
Alexander first distinguished himself in service to Canada in 1942 as a corporal and wireless operator in the Royal Canadian Air Force during the Second World War. He served in many parts of the country including Portage La Prairie. He was ineligible for combat duty because of poor eyesight. While stationed in Vancouver, he was refused service at a bar because of his race. He reported the incident to a superior officer who refused to take action. Alexander quit the Air Force in 1945 and was granted an honorable discharge.
After the war Alexander completed his studies at Hamilton's Central Collegiate and then entered McMaster University in 1946 to study economics and history, receiving a BA in 1949. He later attended Osgoode Hall Law School in Toronto
In 1965, Alexander ran in the Canadian federal election as the Progressive Conservative Party of Canada candidate in the Hamilton West electoral district but was defeated. He ran again in the 1968 federal election and on June 25, 1968, he won the seat, becoming Canada's first black Member of Parliament.
Alexander was an observer to the United Nations in 1976 and 1978 and served briefly as Minister of Labor in the Progressive Conservative Party's minority government headed by Joe Clark from 1979 to 1980. In 1992, Alexander was appointed to the Order of Ontario and became a Companion of the Order of Canada. From 1991 to 2007, he served as Chancellor of the University of Guelph. Alexander died in his sleep on the morning of October 19, 2012, aged 90.
sources:
https://www.canada.ca/en/canadian-heritage/campaigns/black-history-month/black-canadians.html