Toni Cade Bambara was born "Miltona Mirkin Cade" on March 25, 1939. She was an author, documentary filmmaker, social activist, and college professor.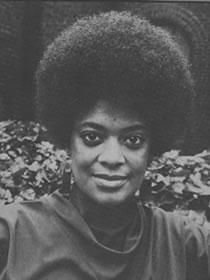 Bambara was born in New York City to Walter and Helen Cade. She grew up in Harlem, Brooklyn, Queens, and in New Jersey. She graduated from Queens College with a B.A. in Theater Arts/English Literature in 1959, and then studied mime at Ecole de Mime Etienne Decroux in Paris, France.
Bambara participated in several community and activist organizations, and her work was influenced by the Civil Rights and Black Nationalist movements of the 1960s. She took a propaganda trip to Cuba in 1973 and to Vietnam in 1975. Upon her return to the United States, she moved to Atlanta and became a founding member of the Southern Collective of African-American Writers.
Her first book was Gorilla, My Love, which collected fifteen short stories written between 1960 and 1970. Most of the stories in Gorilla, My Love are told from a first-person point of view. The narrator is often a sassy young girl who is tough, brave, and caring. Bambara considered her writing to be "upbeat" fiction.
She was extremely active in the Black Arts movement and the emergence of black feminism. Bambara's work was explicitly political, concerned with injustice and oppression and the fate of African-American communities and grassroots political organizations. Her anthology, The Black Woman, was the first feminist collection to focus on African-American women. It contained short stories, poetry, and essays written by Nikki Giovanni, Audre Lorde, Alice Walker, Paule Marshall, herself, and work by her students from the SEEK program.
Bambara contributed to American Experience PBS documentary series with Midnight Ramble: Oscar Micheaux and the Story of Race Movies. She also was one of four filmmakers who made the collaborative 1995 documentary W.E.B. Du Bois: A Biography in Four Voices.
Bambara died in 1995. She was posthumously inducted into the Georgia Writers Hall of Fame in 2013.
source:
http://www.georgiawritershalloffame.org/honorees/index.php