Cyrus F. Adams, born in Louisville, KY, was an author, a historian, a teacher, a newspaper man, a businessman, and dedicated Republican. He was also a civil rights advocate who used the newspaper to speak out against racism and prejudices. Adams also served as the Assistant Register of the U.S. Treasury.
Adams was listed as mulatto in the 1870 Census as well as the other family members living in the home. In 1888, he assisted his brother John Q. Adams with the distribution of the The Appeal newspaper that had been established in St. Paul, MN; Cyrus was the editor and manager of The Appeal newspaper operation in Chicago. The newspaper would become the most-read African American newspaper in Chicago during the late 1800s. While he was managing the newspaper office in Chicago in 1888, Cyrus F. Adams was also a lecturer and a teacher.
He wrote "Col. William Pledger," an article in the Colored American Magazine, June 1902," and he also wrote "George L. Knox: his life and work," in the Colored American Magazine, October 1902. The following year he wrote the article "The Afro-American Council, the story of its organization — What it stands for — Its personnel," Colored American Magazine, March 1903.  In 1912, he authored the book title The Republican Party and the Afro-American: a book of facts and figures.
In 1905, he was elected president of the newly formed Washington Philatelic Society. Cyrus F. Adams died on February 18, 1942.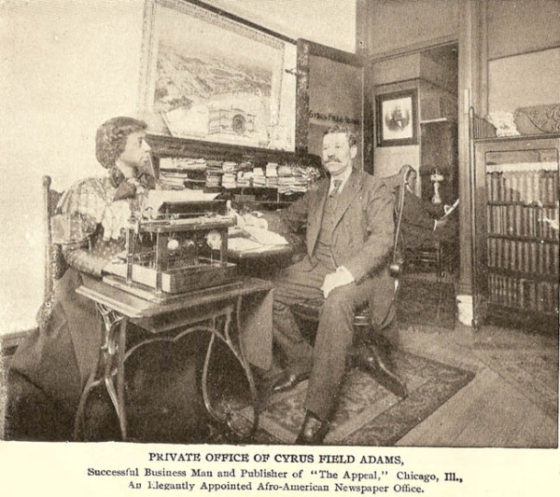 source:
http://nkaa.uky.edu/nkaa/items/show/3139