Byrd Prillerman was one of the most prominent African American educators and former president of West Virginia Collegiate Institute (West Virgina State College).
Prillerman received a bachelor of science degree from Knoxville College in 1889; master of arts degree at Westminster, New Wilmington, Pa., in 1894, and a degree in literature from Selma University in 1916. He successfully obtained a first-grade teachers' certificate. To improve his literary qualifications, he entered Knoxville College September 3, 1883, from which place he was later graduated.
Returning to Charleston, he was employed as a teacher in the public schools here and was made assistant principal. Realizing that there was need for higher education for Negroes in West Virginia, he took up the matter with Governor A. B. Fleming in 1890 and obtained the establishment of the West Virginia Colored Institute in 1891.
Dr. Prillerman was employed as first assistant to the principal in 1892. The West Virginia Collegiate Institute, which he headed for 10 years as president, was founded by a federal statute of 1862, which required that equal educational facilities for Negro children. It did not become established as a State school for Negroes until March 17, 1891, in pursuance of an act passed by the legislature of 1890 providing separate schools for Negroes.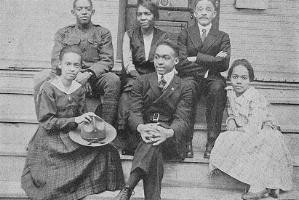 source:
http://www.wvculture.org/history/histamne/prillerm.html