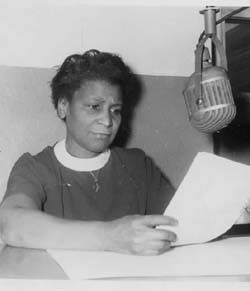 Carrie Prevoe Best was a poet, writer, journalist, and activist. She founded The Clarion, the Nova Scotia's first black-owned and published newspaper in 1946. She began hosting The Quiet Corner radio program in 1952 which would run for 12 years. Best also was made an Officer of the Order of Canada in 1979.
Best was born in New Glasgow, Nova Scotia, she was the daughter of James and Georgina Ashe Prevoe. As a young child, she and her two brothers were encouraged by their parents, to study the history of African-Canadians and be proud of their Black heritage. Career choices for young women were limited, and even fewer options were available for black women. She considered nursing, but no Canadian schools accepted African-Canadians and she wasn't interested in a teaching career in one of Nova Scotia's segregated schools
In 1925, she married Albert T. Best and they had one son. However, they later opened up their doors to foster children. In 1943, Best confronted the racial segregation of the Roseland Theater in New Glasgow. She purchased two tickets for the downstairs seating of the theater and attempted to watch a film with her son James Calbert Best. Both were arrested and fought the charges in an attempt to challenge the legal justification of the theater's segregation.
Although Best was unsuccessful at winning her case and made to pay damages to Roseland's owners. The experience motivated her to found The Clarion in 1946, the first black-owned and published Nova Scotia newspaper. It became an important voice in exposing racism and exploring the lives of Black Nova Scotians. Best's very first edition of The Clarion ran the story of Viola Desmond who also challenged racial segregation at the Roseland Theater and whose story became a milestone human rights case in Canada. Best also started a radio show, The Quiet Corner in 1952 which stayed on the air for 12 years. Best was persistent about using her voice in radio and print to bring positive change to society in Nova Scotia and Canada.
sources:
http://www.thecanadianencyclopedia.ca/en/article/carrie-best/