On May 11, 1970, a racial killing outraged the black community in Oxford, North Carolina. Henry Dortress Marrow, a 23-year-old man, was murdered by a white man and two of his sons. Marrow was known as "Dickie" by his friends and had returned home to Oxford after serving in Army before his murder.
Henry "Dickie" Marrow was born to Henry D. Marrow, Sr. and Ivey Hunt Marrow on January 7, 1947. His parents separated early on, and his father, Henry, Sr., died in a violent argument. Ivey Marrow could not provide for her son alone in New Jersey, so she sent Marrow to live with her parents in Oxford, North Carolina. He moved in with the Chavis family during his adolescence while he attended Mary Potter High School. After his graduation, Marrow, Jr., attended Kittrell College for about a year.
After college, Marrow decided to join the military and was stationed in Fort Bragg. But Marrow soon found out, he hated working in the Army. He traveled home often to see Willie Mae Sidney, who he planned to marry. After being discharged from the army, he moved back to Oxford and started working at Umstead Hospital in Butner. He married Sidney and they had two daughters.
Despite a passage of the federal civil rights legislation, Oxford remained a segregated community. At this time in 1970, Robert Teel, a white store owner, was being boycotted by the local black community after beating a local black schoolteacher who had gotten into an argument with his wife. Teel was known to be involved in the KKK and he had a criminal record.
On the evening of May 11, 1907, Marrow was with three of his friends at the Tidewater Seafood Market, a hangout spot for most of the young men in town. The group of young men were joking around and having a good time. Before 9:00 that night, Marrow left the group and told his friends he had planned to visit Teel's shore in order to purchase a Coca-Cola.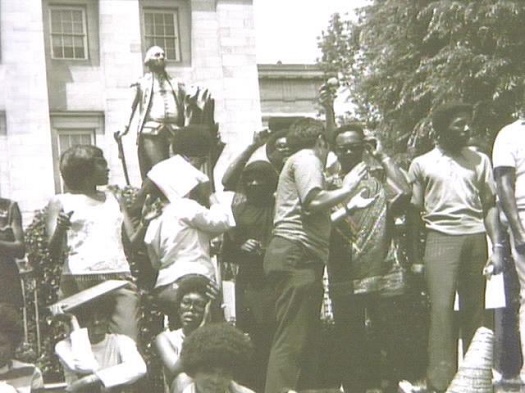 Robert Teel's 18-year-old son, Larry, and Larry's wife, Judy, were unpacking motorcycles in the parking lot. Marrow made a remark, the content of which is disputed and unknown. During the subsequent trial, Judy Teel testified that Marrow had spoken "ugly" words to her. Her husband came to her defense, shouting "That's my wife you're talking to," at which point both Robert Teel and his stepson, Roger Oakley, ran into the shop. According to onlookers, they retrieved their guns.
Marrow explained to Larry Teel that it was not his wife he made the remarks towards, but rather the two young black women that were standing nearby. None of the men in the store were willing to listen to Marrow. Larry Teel tried to hit Marrow with a wooden block, after which Marrow drew a knife to defend himself. A witness at the Tidewater said he and other men tried to convince Marrow to leave before they ran off.
According to Tyson, Teel fired his shotgun at Marrow, striking him and also wounding Chavis, who had just happened onto the scene. Teel fired a second time, knocking Marrow to the ground. Oakley shot him twice with a shotgun. At this point, Marrow was still conscious, bleeding on the ground. Roger Oakley, Robert Teel, and Larry Teel approached him, and began to beat him while Robert Teel repeatedly exclaimed, "Kill him."  Also, according to Tyson, either Robert or Larry Teel fired a single bullet from the .22 rifle into Marrow's head. Marrow died in route to Duke University Medical Center.
At the murder trial, an all-white jury was picked and returned a verdict of not guilty on all counts for the charges against the Teels and Oakley. Later that year, Marrow's widow filed a wrongful death civil suit against the Teels.
After the murder trial, Benjamin Chavis, a local civil rights organizer and leader of the local chapter of the NAACP, led a protest march from Oxford to the state capital. Chavis and other blacks conducted a "boycott of white businesses that lasted 18 months" and finally achieved full integration in Oxford.
sources:
http://www.wow.com/wiki/Killing_of_Henry_Marrow
http://www.wral.com/news/local/story/110772/