William Thaddeus "Bill" Coleman Jr. was an American attorney and politician. Coleman was the fourth United States Secretary of Transportation, from March 7, 1975, to January 20, 1977, and the second African American to serve in the United States Cabinet.
Coleman was born to William Thaddeus Coleman Sr. and Laura Beatrice Coleman in Germantown, Philadelphia, Pennsylvania. Colman's mother came from six generations of Episcopal ministers, including an operator of the Underground Railroad.
Frequent visitors to Coleman's home included W.E.B. DuBois and Langston Hughes. The men would often visit for dinner. One of seven black students at Germantown High School, Coleman was suspended for cursing at a teacher after she praised his honors presentation by saying, "Someday, William, you will make a wonderful chauffeur."
Coleman was suspended once again when he attempted to join the school's swim team. The team disbanded after he returned so as to avoid admitting him, only to reform after he graduated. Coleman's swim team coach wrote him a strong letter of recommendation and he was accepted into the University of Pennsylvania, where he was a double major in political science and economics.
He began his legal career in 1947, serving as law clerk to Judge Herbert F. Goodrich of the U.S. Court of Appeals for the Third Circuit and U.S. Supreme Court Justice Felix Frankfurter in 1948. He was the first African American to serve as a Supreme Court law clerk.
Coleman was hired by the New York law firm of Paul, Weiss, Rifkind, Wharton & Garrison in 1949. Thurgood Marshall, then the chief counsel of the National Association for the Advancement of Colored People, recruited Coleman to be one of the lead strategists and coauthor of the legal brief in Brown v. Board of Education (1954), in which the U.S. Supreme Court held racial segregation in public schools to be unconstitutional.
Gerald Ford appointed Coleman to serve in the Cabinet of the United States as the fourth United States Secretary of Transportation on March 7, 1975. Coleman, Jr. died from complications of Alzheimer's disease at his home in Alexandria, Virginia on March 31, 2017, aged 96.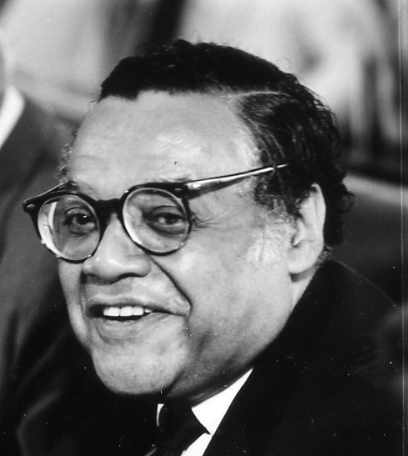 source: