Charles Henry Christian is one of the greatest jazz guitarists in history. Christian was born to musical parents in Bonham, Texas, on July 29, 1916. His father, Clarence James, a trumpeter, and his mother, Willie Mae, a pianist.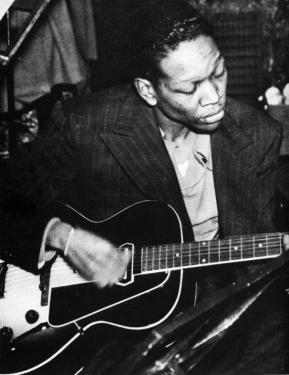 In 1918, Christian's father became blind following an unknown illness. As a direct result, the family moved from Bonham to live in Oklahoma City. Christian started grade school in 1923 at Douglass School but didn't attend very often, he preferred to earn money on the streets playing his ukulele. Christian spent a great deal of the depression years playing in different bands.
By 1932, Christian had left school to pursue his musical career, playing wherever he could earn a living but mostly with his brother Edward's band, which varied between four and thirteen pieces. T-Bone Walker tells of coming to Oklahoma City in 1933 with the Lawson Brooks Band and playing with Christian on the streets as a duo. They had a bass and guitar and would play, sing, and dance together.
Christian's big break came in July 1939 following a recommendation by Mary Lou Williams, John Hammond of Columbia Records, on his way to oversee a Benny Goodman recording session in Los Angeles, who stopped in Oklahoma City to audition Christian and his sextet. A short time later Christian received a telegram from Hammond telling him to come to Los Angeles to play with Benny Goodman. Christian became a featured member of the Goodman Sextet, recording regularly and being heard weekly on radio broadcasts.
Unfortunately, his brilliant career was cut short by tuberculosis. He died from the disease on March 2, 1942. He was chosen for in 1966 and inducted into the Big Band and Jazz Hall of Fame in 1981. In 1990, Christian was inducted into the Rock and Roll Hall of Fame as an early influence of the genre.
Source:
https://tshaonline.org/handbook/online/articles/fch37