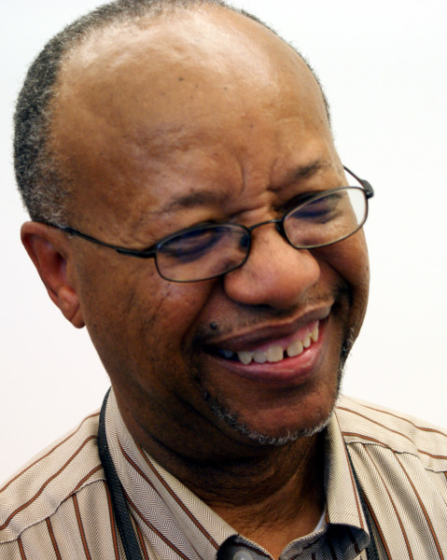 Charles Sherrod was a key member and organizer of the Student Nonviolent Coordinating Committee during the Civil Rights Movement. He became the first SNCC field secretary and SNCC director of southwest Georgia.
Sherrod was born in Petersburg, Virginia in 1937 and raised by his grandmother. He grew up singing in the choir and attending Sunday school. Sherrod was so devoted to his faith until he began preaching to other children at church. He first became aware of racism at age two, when his mother pulled him out of a front seat and pulled him to the back of a bus.
He began his activism after the Supreme Court decision to desegregate public schools in 1954.A friend asked him if he wanted to desegregate the white churches, and so the two "sit-in" at white services in Petersburg, long before the sit-in movement began.
In 1961, while studying at Virginia Union University, Sherrod again joined in a sit-in, this time at department stores in Richmond, Virginia. Later that year, he turned down a college teaching position and instead headed to Shaw University to join student leaders from around the country in the founding of the Student Non-Violent Coordinating Committee (SNCC).
Sherrod became the first field secretary and SNCC director of southwest Georgia in October 1961. He and Cordell Reagon opened an SNCC office near the all-black Albany State College. On November 1,  1961, they launched a student sit-in at the bus terminal station to test the recently enacted law desegregating bus and train terminals. When local law enforcement officials blocked the demonstrators, the single protest became the two-year Albany campaign. It eventually led to multiple protests by thousands of students as well as the involvement of Dr. Martin Luther King, a public plea from President John F. Kennedy to city officials, and resolution of the issue by local black leaders to resolve the issue. Ultimately the civil rights activists organized by Sherrod would prevail.
Sherrod left the organization and in 1967 received his Doctor of Divinity degree from Union Theological Seminary in New York City, New York. He returned to Albany, formed the Southwest Georgia Independent Voters Project, and began the agricultural cooperative New Communities Inc.  In 1976, Sherrod was elected to the Albany City Council, serving until 1990.
Sources:
http://www.pbs.org/thisfarbyfaith/witnesses/charles_sherrod.html
http://www.blackpast.org/aah/sherrod-charles-1937