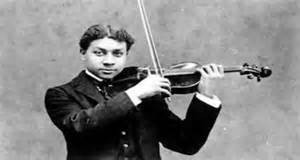 Clarence White was an African-American neoromantic composer and concert violinist. He is best-known for his works such as the incidental music for the play Tambour and the opera Ouanga. During the first decades of the twentieth century, White was considered the foremost violinist of his race.
Clarence Cameron White was born in Clarksville, Tennessee, on August 10, 1880 to James W. White, a doctor and school principal, and Jennie Scott White, a violinist who studied at Oberlin Conservatory of Music. His father died when he was only two years old. White relocated with his mother and younger brother to Oberlin, Ohio to live with her parents, where he was first exposed to the violin:
White received private studies in 1894 with Joseph Douglass, a notable black violinist and grandson of abolitionist Frederick Douglass, at Howard University. He attended Oberlin Conservatory of Music 1896–1901, the alma mater of his parents, where he studied with Frederick Doolittle. He the school in 1901 before graduating to accept a teaching position in Pittsburgh, Pennsylvania that fell through after one month. Shortly thereafter he won a violin scholarship through the Hartford School of Music where he studied with Franz Micki.
White maintained an active career as a performer, teacher, and composer. From 1902-1903, White contributed articles on violin pedagogy and history to The Negro Music Journal and from 1903-1907 served as the head of the string department of the Washington Conservatory of Music, founded by pianist, educator, and Oberlin alum, Harriet Gibbs Marshall.
After performing throughout Europe he established a studio in Boston where he conducted the Victoria Concert Orchestra from 1914 until 1924. He was also director of music at West Virginia State College from 1924 to 1931. Here he first became interested in Haitian music and history through his friend, Professor John F. Matheus. The two men traveled to Haiti and together composed an opera based on the life of Jean-Jacques Dessalines, a slave who led a revolution and became the first emperor of Haiti.
As a concert violinist he received critical praise and toured the United States with his wife, pianist Beatrice Warrick White. He was a  founding member of the National Association of Negro Musicians, and served as the organization's president from 1922 to 1924. Clarence Cameron White died on June 30, 1960.
sources: