Millie and Christine McKoy were born on July 11, 1851 in the little town of Welches Creek, North Carolina, joined together by a soft tissue connection at the sacrum. Their parents, Monimia and Jacob McKay, slaves owned by a blacksmith named Jabez McKay, already had seven children. McKay sold Monimia and her extraordinary daughters to John Pervis, a showman, when the twins were only ten months old. Pervis was to give 25% of his exhibition earnings back to McKay. He in turn sold the twins to another showman, named Brower, in 1853, who split the cost with Joseph Pearson Smith, yet another showman looking to exhibit the twins. At one point, either the twins or one of their managers changed their name from McKay to McKoy (but never McCoy).
While on exhibition in New Orleans, Millie and Christine, still only children, were kidnapped from Brower and Smith. Their kidnapper continued to show them for almost a year, during which time they appeared at Barnum's American Museum. In 1855 they were sold to a Professor Millar, who took them to Canada and then to Europe. While exhibiting the sisters in England, Millar managed to make contact with Joseph Smith, the twins' former owner who had become a father figure to them during the brief time he looked after them. Smith brought Monimia, the twins' mother, the England to collect them and return with them to the United States.Smith and his wife, Mary, tutored the girls in music and languages, of which they learned to speak four or five. Song would become their preferred medium for the rest of their lives; Millie was a contralto and Christine a soprano, and they were celebrated for their ability to harmonize. When Smith died in 1862, the twins used their earnings to care for Mrs. Smith and also supported their mother. Though they were willed to Smith's son, Joseph Jr., the Emancipation Proclamation soon nullified his ownership of the twins.
Millie and Christine became close friends with Anna Swan and Martin Bates, Barnum's most famous giant and giantess. They were bridesmaids at the Bates' much-publicized wedding. They also met up with Giuseppe and Ernesto Magri, a pair of midget brothers from Italy, while touring Europe, and brought them back to the United States. In the 1880s, after a long, successful career in circuses and museums, the sisters returned to their hometown of Welches Creek, North Carolina, and purchased a small farm.
In 1909, after a fire consumed all of their possessions, the twins' health began to decline. Millie contracted tuberculosis, which, although it never directly affected Christine, eventually claimed both their lives on October 8, 1912. Christine died seventeen hours after her sister.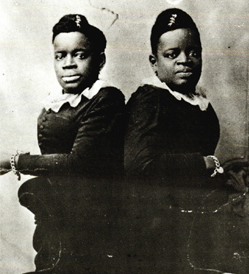 Were Millie and Christine exploited? Most certainly – their descendants claim that even under the tutelage of Mr Smith, the twins were raped, beaten and overworked, the same grisly treatment suffered by other female slaves. And, until the twins were old enough to make their objections known, they were "examined" by hundreds of doctors whose motives were less than pure. Thus it was a widely-known fact that the girls shared genitalia, a not uncommon birth defect in pygopagus twins. Though it is likely that the accounts of abuse by Mr. Smith have been exaggerated by revisionist historians, the sexual exploitation by medical men is unfortunately a fate which befell nearly every female "freak" since the advent of medicine as we know it.
Read The Entire Article @http://www.noircon.info