Arthur Ashe
Arthur Ashe was an incredible no 1. ranked tennis player, and one of the most successful African American tennis players in history. During his career, Ashe won three Grand Slam titles. Ashe was also the only black man in history to win the singles title at the Australian Open, US Open, and Wimbledon. In 1963, he became the first black player ever selected to the United States Davis Cup team.
Jackie Robinson
Jackie Robinson is regarded as one of the greatest black athletes of all-time. In a time when baseball had segregated, Robinson was recruited out of the minor leagues to play for the Dodgers by the general manager Branch Rickey. During his career, Robinson faced extreme racism, death threats, and violence from white fans and players, and was even given a seven-inch gash in his leg by a Cardinals player. Robinson never gave up despite the attacks, and went on the become a six-time All-Star, win the National League MVP award in 1949, and the MLB Rookie of the Year Award in 1947. In 1962, Robinson was inducted into the Baseball Hall of Fame.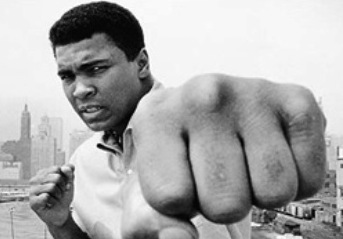 Muhammad Ali
Born in 1942 as Cassius Marcellus Clay, Jr., Muhammad Ali is arguable the greatest boxer of all time. Already a star as an amateur, Ali rose to fame during the Rome Games when he defeated the three-time champion Zbigniew Pietrzykowski. His record was incredible, 56-5 with 37 knockouts, beating champions left and right. The first and the only, Ali was a three-peated World Heavyweight Champion. He was also inducted into the International Boxing Hall of Fame.
Marlin Briscoe
Marlin the Magician was the very first starting black quarterback in the NFL. Drafted by the Denver Broncos in 1968, Briscoe became a very successful player as a rookie, making 14 touchdowns, 13 picks, and 1,589 yards that season. In 1970, he was selected as an All-Pro.
Bob Gibson
Bob Gibson was a St. Louis Cardinals player and a baseball legend. A member of the baseball Hall of Fame and the Major League Baseball All-Century Team, Gibson was known for being the greatest Cardinals pitcher of all-time. Gibson won the All-Star and Gold Glove Award nine times during his career and was the World Series MVP in 1964 and 1967. In 1971, he threw a no-hitter. After his induction to the Hall of Fame, Gibson's jersey number, 45, was retired by the league.
Source: http://bleacherreport.com/articles/1081466-the-20-most-influential-african-american-athletes-who-changed-sports-forever/page/20