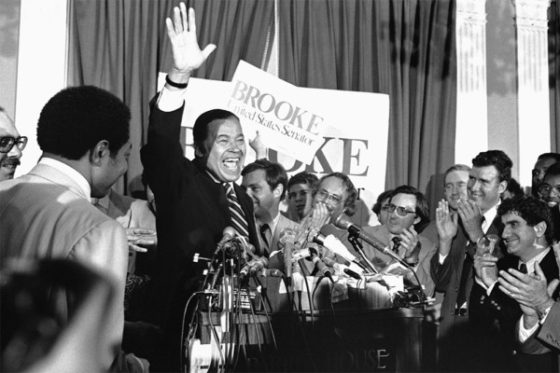 Edward William Brooke III was a politician and lawyer who was also the first first African American popularly elected to the United States Senate. He represented Massachusetts in the Senate from 1967 to 1979.
Brooke was born on October 26, 1919, in Washington, D.C., to Edward William Brooke, Jr. and Helen (Seldon) Brooke. He was the second of three children. He was raised in a middle-class section of the city, and attended Dunbar High School, then one of the most prestigious academic high schools for African Americans.
After graduating in 1936, he enrolled in Howard University, where he first considered medicine, but ended up studying social studies and political science. Brooke graduated in 1941, and enlisted in the United States Army immediately after the Japanese Attack on Pearl Harbor. Brooke served five years in the Army, he saw combat in Italy during World War II as a member of the segregated 366th Infantry Regiment, and earned a Bronze Star Medal. In Italy, he met his future wife Remigia Ferrari-Scacco, with whom he had two daughters, Remi and Edwina. Following his discharge, Brooke graduated from the Boston University School of Law in 1948.
In 1950, he ran for a seat in the Massachusetts House of Representatives in both the Democratic and Republican primaries. Brooke won the Republican nomination, but lost the general election. Brooke made two more tries for office, including one for secretary of state, but lost both races. The loss in the secretary's race (to Kevin White, a future mayor of Boston) was particularly close. Republican leaders took notice of Brooke's potential.
Brooke defeated former Governor Endicott Peabody with 1,213,473 votes to 744,761, and served as a United States Senator for two terms, from January 3, 1967, to January 3, 1979.
In 1967, he was awarded the Spingarn Medal from the NAACP. By his second year in the Senate, Brooke had taken his place as a leading advocate against discrimination in housing and on behalf of affordable housing. Brooke was also twice elected attorney general of Massachusetts, the first African-American to be elected attorney general of any state. Edward Brooke III died on January 3, 2015 at the age of 95.
source:
http://bioguide.congress.gov/scripts/biodisplay.pl?index=b000871