Elisabeth Margaret Welch was a singer, actress, and entertainer. Her career spanned seven decades. She is best remembered for the songs "Stormy Weather" and "Love for Sale."
Welch was born in Englewood, New Jersey. Her father was of indigenous American and African-American ancestry, and her mother of Scottish and Irish descent. Welch was raised in a Baptist church and found her love for singing in the church choir.
As a young girl, she had dreams of going to school to become a social worker, but later chose the career of a professional singer. Her career started in New York in 1922 but she moved to Europe in 1929, where she spent the rest of her life.
She was asked to return to New York to replace a singer in The New Yorkers, and sang Cole Porter's controversial song "Love for Sale." The composer met with her afterwards in Paris and later invited her to perform his song "Solomon" in Nymph Errant in London in 1933. Welch's show-stopping performance in Nymph Errant was seen by Ivor Novello, and in 1935, he gave her a part in his show Glamorous Night, in which she stood out again singing his blues song "Far Away in Shanty Town."
In 1931, Welch had included in her cabaret act the new song "As Time Goes By," almost a dozen years before it achieved screen fame in Casablanca. During World War II, she remained in London in spite of the Blitz. She entertained the armed forces along with many other artists. After the war, she began to appear in West End theatre shows, and continued on both television and radio. She also had a series of one-woman shows until 1990.
Her final performance was in 1996, for a television documentary during which she sang "Stormy Weather" at the age of 93. Welch died in 2003 at 99.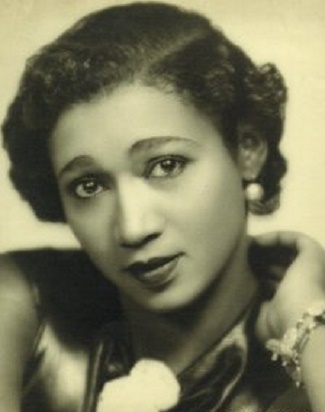 sources:
http://www.last.fm/music/Elisabeth+Welch
https://en.wikipedia.org/wiki/Elisabeth_Welch