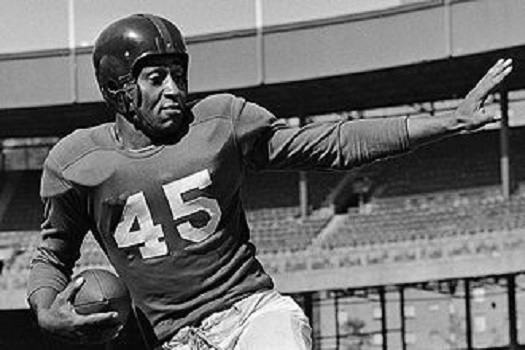 Emlen Lewis Tunnell, better known by the nickname "The Gremlin", was an American football player and coach. He was the first African American to play for the New York Giants and also the first to be inducted into the Pro Football Hall of Fame.
Tunnell was born and raised in the Philadelphia area. He played college football at the University of Toledo in 1942 and the University of Iowa in 1946 and 1947. Tunnell also served in the United States Coast Guard from 1943 to 1946. He received the Silver Lifesaving Medal for heroism in rescuing a shipmate from flames during a torpedo attack in 1944 and rescuing another shipmate who fell into the sea in 1946.
He next played 14 seasons in the National Football League (NFL) as a defensive halfback and safety for the New York Giants (1948–1958) and Green Bay Packers (1959–1961). He was selected as a first-team All-Pro six times and played in nine Pro Bowls. He was a member of NFL championship teams in 1956 and 1961.
After retiring as a player, Tunnell served as a special assistant coach and defensive backs coach for the New York Giants from 1963 to 1974. In addition to the Pro Football Hall of Fame, he was named to the NFL's 1950s All-Decade Team and the all-time All-Pro team and was ranked number 70 on The Sporting News' list of the 100 Greatest Football Players.
In February 1965, Tunnell was promoted to assistant coach responsible for the Giants' defensive backs. While some sources credit Tunnell as the first African American to work as an assistant coach in the NFL, and even as the first black coach in the NFL, Fritz Pollard was a head coach in the NFL in the 1920s, and Lowell Perry was an assistant coach for the Pittsburgh Steelers in 1957.
Tunnell suffered a minor heart attack in October 1974 and thereafter assumed a new position as the Giants' assistant personnel director. In July 1975, Tunnell died from a heart attack during a Giants practice session at Pace University in Pleasantville, New York.
sources:
http://www.profootballhof.com/players/emlen-tunnell/
https://en.wikipedia.org/wiki/Emlen_Tunnell