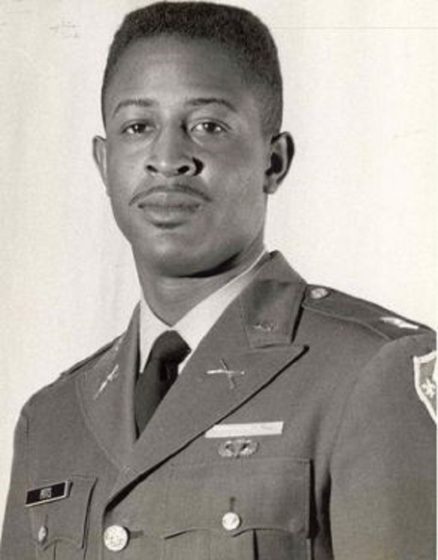 Riley Leroy Pitts was a United States Army Captain and the first African-American commissioned officer to receive the Medal of Honor.
Pitts was born on October 15, 1937, in Fallis, Oklahoma. He attended Douglass High School in Oklahoma City. He earned a bachelor's degree in Journalism from Wichita State University in 1960 and worked briefly for the Boeing Corporation in Wichita prior to joining the Army.
Pitts first served during Vietnam as an information officer. He was later transferred to a combat Unit. He served as commander of C Company "Wolfhounds", 2d Battalion, 27th Infantry Regiment. On October 31, 1967, just one month before he was to return home, his unit was called upon to reinforce another company heavily engaged against a strong enemy force.
His company landed in an airmobile assault and were greeted by Viet Cong, who opened fire with automatic weapons. Captain Pitts led an assault which overran the enemy positions and was then ordered to move north to reinforce another company engaged against a strong enemy force. As his company moved forward intense fire was received from three directions, including four bunkers, two of which were within 15 meters of his position. Pitts threw a grenade taken from a captured Viet Cong soldier's gear towards an enemy bunker, but it hit the jungle foliage and bounced back. Immediately, he threw himself on top of the grenade in an effort to protect his unit, but, it failed to explode. Pitts continued to lead his unit forward towards enemy lines until he was killed in the middle of gunfire.
On December 10, 1968, President Johnson presented the Congressional Medal of Honor to Pitts's wife, Eula, and his children.
sources:
https://www.kshs.org/kansapedia/riley-leroy-pitts/12170