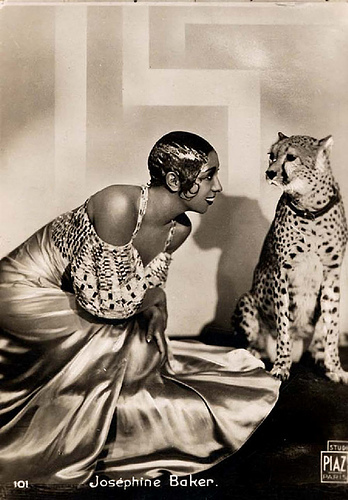 At Black Then, we frequently see interesting photos that give us a glimpse into the past. They tend to show us a piece of black history that is often not covered in textbooks, in history classes, or shown in the media.
In a photo that we found on Black History Album , we see this great image called "Josephine Baker with Her Cheetah, c.1930-32" . Given the nicknames "Black Venus," "Black Pearl,""Creole Goddess," and "La Baker" in her adopted country of France, Josephine Baker (1906-1975), was known as "The It Girl Who Danced Her Way Through The 20's And 30's Only Dressed In Bananas."
A dancer, singer, actress, and comedian all in one, Josephine Baker was is noted for being the first woman of African descent to star in a major motion picture, to integrate an American concert hall, and to become a world famous entertainer. Her acts were both outrageously funny and quite sexy. She was a star of stage, screen, and recordings, a civil rights activist, and an honored military woman during World War II.
Want to know more about Black History? Visit Discover Black Heritage.
Found On Flicker.com in Black History Album