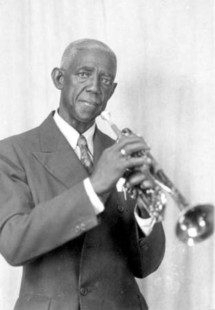 Geary "Bunk" Johnson was a jazz legend of his time, he was a musician and composer. While Johnson claimed he was born in Louisiana in 1879, it's become generally accepted that his birth was actually 10 years later. He's said that he performed with Adam Olivier and Buddy Bolden's orchestras in the 1890s, as well as with circuses, minstrel shows and on ocean liners. Whether or not that was all true, is not proven.
Even Louis Armstrong once said, "Bunk Johnson played funeral marches that made me cry!" Johnson toured throughout the south and at one point played as back up for Ma Rainery until dental problems forced him to retire in 1933.
After getting a new trumpet and set of teeth, Johnson recorded extensively in the early and mid 1940s. His work at this time (1946) was a part of a jazz revivalist movement along with the work of other New Orleans musicians, including clarinetist George Lewis and drummer Baby Dodds. Geary "Bunk" Johnson died after a series of strokes in New Iberia.
sources:
http://www.redhotjazz.com/bunk.html