George Herriman, noted as one of America's greatest cartoonists, gained fame for his cartoon, "Krazy Kat." Krazy Kat gained independence on October 28, 1913, and ran until the Herriman's death. The cartoonist's first success came with the cartoon, "The Family Upstairs."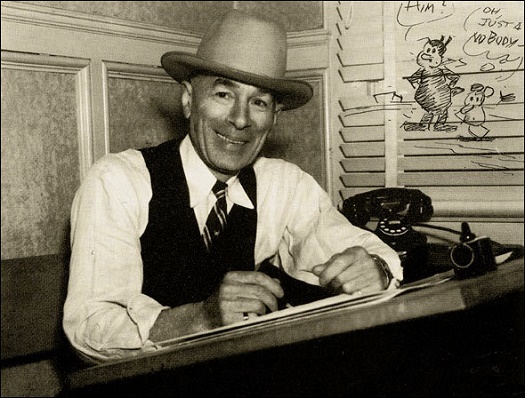 Herriman was born in New Orleans, Louisiana, to Creole parents. When he was still a teenager, his family moved to Los Angeles. Many Black Creole families moved out west in order to escape the restrictions of Jim Crow laws.
After he graduated from high school in 1897, he worked in the newspaper industry as an illustrator and engraver. He eventually moved on to cartooning and comic strips. He drew a variety of strips until he introduced his most famous character, Krazy Kat, in his strip "The Dingbat Family" in 1910. A "Krazy Kat" daily strip began in 1913, and from 1916,  the strip also appeared on Sundays. Throughout the 20th century, cartoonists have considered "Krazy Kat" the founding father of sophisticated comic strips.
Herriman lived most of his life in Los Angeles, but made frequent trips to the Navajo deserts in the southwestern U.S. He was drawn to the landscapes of Monument Valley and the Enchanted Mesa, and made Coconino County the location of his "Krazy Kat" strips.
Two family tragedies marked Herriman's life. In 1931, his wife Mabel died in a car accident, and in 1939, his daughter Bobbie passed away at age 30. He retired to a lonely existence, brightened only by his cats and dogs. Herriman died in 1944 of non-alcoholic cirrhosis of the liver.
Herriman never publicly acknowledged his ethnicity, probably fearful of its effects on his reputation. Some people believed that Herriman always wore a hat to hide his "kinky" hair, but a comic historian suggests that the hat covered an unsightly bump on his head. However, Herriman's death certificate lists him as Caucasian.
sources:
http://georgeherriman.com/biography.html
https://en.wikipedia.org/wiki/George_Herriman