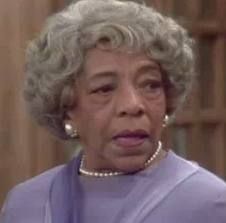 Zara Cully was an American actress, known for her role as Olivia "Mother Jefferson" Jefferson on the CBS sitcom The Jeffersons.
Zara Frances Cully was born in Worcester, Massachusetts, on January 26, 1892. She was one of ten siblings.
Cully graduated from the Worcester School of Speech and Music. After moving to Jacksonville, Florida, she began producing, writing, directing, and acting in numerous plays. For 15 years, she was a drama teacher at her own studio as well as at Edward Waters College. Cully had become known as Florida's "Dean of Drama."
By the time she acquired the role of "Mother Jefferson," she had accumulated a long list of acting credentials spanning a half-century, including such movies as The Liberation of L.B. Jones, a starring role in Brother John, and the Blaxploitation films Sugar Hill.
Cully did not enter the acting world until quite late in life. She made her television debut in "Run For Your Life" in 1966 at the age of 74. She appeared in character roles throughout the 1960s and 1970s in such television series as Night Gallery, Days of Our Lives, and The Mod Squad. However, her most highly-remembered role was that of Mother Jefferson. She appeared as "Mother" Olivia Jefferson in a guest appearance on an episode of All in the Family, entitled "Lionel's Engagement," which aired on February 9, 1974. She was 82 years old at the time.
Her last credited performance was an appearance in the ninth episode of the fourth season entitled "The Last Leaf," which aired November 12, 1977, three months before her death. Zara Frances Cully died on February 28, 1978. She was posthumously awarded an NAACP special Image Award on June 9, 1978, at the 11th Annual NAACP Awards ceremony.
sources:
http://www.findagrave.com/cgi-bin/fg.cgi?page=gr&GRid=3368
http://www.imdb.com/name/nm0191652/bio