George Taliaferro, an Indiana University football player, was the first African American player drafted by a National Football League team in 1949.
As the leading rusher and an All-American at Indiana University, he led the Hoosier football program to their only undefeated Big Ten Conference championship.
The 1945 Indiana Hoosiers football team handed Fritz Crisler and the University of Michigan their only Big Ten loss, a 13-7 win for IU–in Ann Arbor. A three-time All-American, Taliaferro led the Hoosiers in rushing twice, punting in 1945 and passing in 1948. Taliaferro helped break the color barrier in sports, playing for the Hoosiers two years before Jackie Robinson suited up for the Brooklyn Dodgers.
Taliaferro was chosen by the Chicago Bears in the thirteenth round of the 1949 NFL Draft but chose to play for the Los Angeles Dons of the All-America Football Conference. He played for the Dons in 1949, then moved to the NFL, where he played with the New York Yanks 1950-51, Dallas Texans 1952, Baltimore Colts 1953-54, and Philadelphia Eagles 1955. A documentary about Taliaferro, titled Indiana Legends: George Taliaferro, was produced by WTIU public television in Bloomington, Indiana.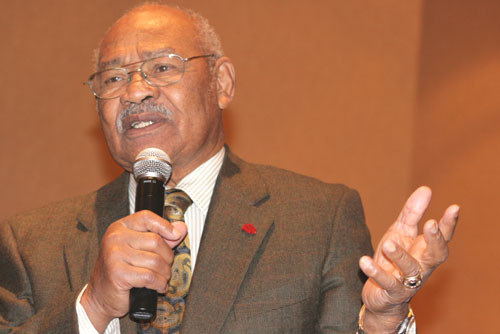 source:
https://www.indystar.com/story/news/history/retroindy/2014/02/04/hoosier-black-history-makers/5202161/
https://en.wikipedia.org/wiki/George_Taliaferro