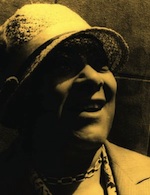 Georgette Harvey was born to sing. As a little girl, she found singing in the church choir and continued to do it to please the elders and sisters of the church. However, there was a desire burning deeper within Harvey. She wanted to explore the world and find out just how far her singing could take her. Therefore, Harvey turned to theatrical performing.
However, during the early 20th century it was unheard of for any respectable woman to be associated with a woman of the world, especially show folks. These people were considered to have loose morals and exhibited themselves for money.
Harvey moved to New York and began making a name for herself. She organized a group of six girls, and they would sing and perform. She appeared as Snow White in a dramatic production, but soon her voice was recognized and she began to travel abroad with her five singers. Vaudeville had become an accepted form of entertainment here by then; she and her troupe soon became known and high in demand.
By 1911, Harvey was the leader of one of the greatest group of singers. During this time, she returned to Europe and her troupe quickly rose to stardom. Not only was Harvey an exceptional singer, she was noted as being a great businesswoman.
She had her American solo debut on stage on October, 10, 1927. In American cinema, she played Old Mandy in the 1934 movie Chloe, Love Is Calling You, and as LuLu in Social Register. She is perhaps most famous for creating the role of Maria in the original 1935 Broadway production of George Gershwin`s opera, Porgy and Bess. Her last performance was in Lost in the Stars , which ran from October 20, 1949, to July 1, 1950. Harvey died in 1952.
sources:
http://aaregistry.org/historic_events/view/georgette-harvey-stage-screen-legend
https://en.wikipedia.org/wiki/Georgette_Harvey