On the morning of November 3, 1979, at the corner of Carver and Everitt Streets in Greensboro, North Carolina, forty Ku Klux Klansmen and American Nazis handed each other shotguns and automatic weapons from the trunks of their cars. They opened fire on black and white anti-Klan demonstrators and union organizers who gathered at Morningside Homes, a black housing project. Sandy Smith, a young black nurse who was active in the black student movement at the time, was shot and killed.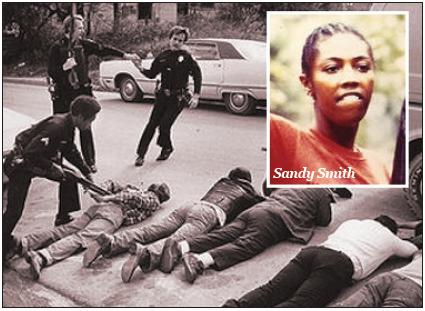 The Ku Klux Klan and Nazis fired rounds at everyone in sight. Shortly after five of the protesters were killed, the police arrived and began arresting other protesters. Five people were killed and eleven were wounded in the attack. All five were members of the Workers Viewpoint Organization (WVO), four of whom were rank-and-file union leaders and organizers.
The permitted march and rally, declaring "Death to the Klan," was organized by the WVO, which was active in the poor neighborhoods and textile mills in the area. At the time, residents of Greensboro reported the incident was a "shoot-out" between "outside agitators," and all of the dead were communists. However, the story told later was that four of the five killed were white men who allied themselves with the black poor and working-class grievance within the white power structure.
"In 2005, Greensboro residents, inspired by post-apartheid South Africa, initiated a Truth and Reconciliation Commission to take public testimony and examine the causes and consequences of the massacre; the efforts of the Commission were officially opposed by the Greensboro City Council. The Commission determined that Klan members went to the rally intending to provoke a violent confrontation, and that they fired on demonstrators. It also found that the Greensboro Police Department had infiltrated the Klan and, through a paid informant, knew of the white supremacists plans and the strong potential for violence. The informant had formerly been on the Federal Bureau of Investigation payroll but had maintained contact with his agent supervisor. Consequently, the FBI was also aware of the impending armed confrontation."
sources:
story found at:
http://www.ibiblio.org/prism/jan98/chron.html
http://www.democracynow.org/2004/11/18/remembering_the_1979_greensboro_massacre_25
http://www.scblacknews.com/index.php?option=com_content&view=article&id=598:a-look-back-at-the-1979-greensboro-massacre&catid=1