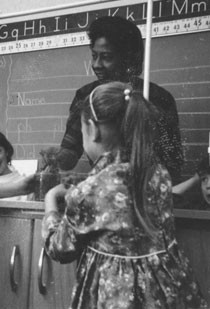 Harriet Elizabeth Byrd was an American politician from Wyoming, and was the first African American elected to the Wyoming Legislature.
Byrd was born on April 20, 1926, to Robert C. "Buck" and Sudie Rhone. Her grandfather, Charles Rhone, arrived to the Wyoming Territory as a child in 1876, later working for the railroad and becoming a well-known cowboy.
Byrd graduated from Cheyenne High School in 1944. Her application to the University of Wyoming was not accepted, most likely due to the fact she was black, and "segregation was in full swing." She then set her eyes on attending West Virginia State College.
She married James Byrd in 1947 while still in college. He had entered the military after high school and served in a Quartermaster truck company in France in World War II, starting shortly after D-Day.
Liz earned a degree in elementary education in 1949 and attempted to get a teaching job with Laramie County School District No. 1, but she was turned down, again, probably because of her race. She worked at Fort Warren in the post supply administration and taught classes for the 3450th Technical Training Wing for the next decade.
In 1959, the school district hired her, and according to the book Black America: A State-by-State Historical Encyclopedia, she was the first fully certified full-time black teacher in Wyoming. She reportedly received $4,400 annually for her first job at Goins Elementary.
During her career she taught mostly second graders, but also in the fourth and fifth grades, and she taught in several of Cheyenne elementary schools.
Byrd became the first African American to be elected to the Wyoming State Senate.  She played a prominent role in several pieces of legislation that  included laws to enforce the use of child safety restraints, provide adequate handicapped parking and create social services for adults.
Byrd retired after serving four terms as a state representative and two terms as a state senator. She retired in the north Cheyenne house that she and her late husband, Jim, purchased in the 1960s. Jim Byrd also has a claim to fame: He was the first African American police chief in state history.
source:
http://www.uwyo.edu/profiles/extras/liz-byrd.html