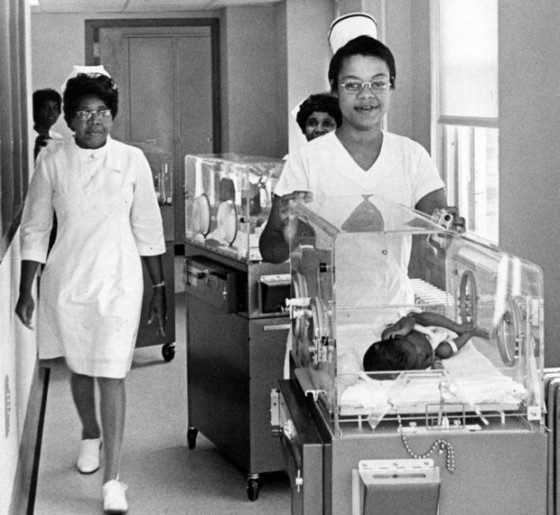 Homer G. Phillips Hospital was one of the most prestigious medical institutions. The hospital opened in 1937, six years after the assassination of its benefactor and advocate Homer G. Phillips, a St. Louis, Missouri-based African-American lawyer. It was designed by architect Albert Osburg.
The hospital had been designed and built to serve the needs of more than 70,000 local blacks, who voiced their opinions about not having the adequate health care and medical training. Homer G. Phillips The hospital brought about a closely related network of stability and pride in The Ville, St. Louis's premiere black community, during the years of restrictive covenants in housing and segregation in education.
Homer G. Phillips Hospital became one of the few nationally-recognized, fully-equipped hospitals in the country where black doctors, nurses, and technicians could receive training. In less than a decade, Homer G. Phillips Hospital ranked in the upper third of the ten largest general hospitals in the country and gained a national reputation for treatment of the acutely injured.
In 1955, following an order from St. Louis Mayor Raymond Tucker that patients of any race, color, or creed living in the western part of the city must be admitted to the hospital, Homer G. Phillips was no longer an exclusively black institution. However, it remained a primarily black institution into the 1960s. In 1960, each department of the hospital was staffed by at least one black doctor who also was a staff member of either Washington University in St. Louis or Saint Louis University, and in 1962, three-fourths of the interns at the hospital were black.
Proposals to merge Homer G. Phillips with City Hospital began to surface in the early 1960s. Although some leaders in the black community opposed the idea (such as William Lacy Clay, Sr., then a city alderman and later U.S. representative for Missouri's 1st district), others accepted the notion. By the 1990s, the nurses' wing was renovated into low-income housing; and in 2004, the hospital was reopened as the Homer G. Phillips Dignity House, a residential care facility for the elderly.
There have been claims 18 women suspect that babies they were told died during birth at Homer G. Phillips Hospital were actually still alive.  Albert Watkins, an attorney at law, says that the births occurred from the mid-1950s to the mid—1960s, that all of the mothers were black and poor, mostly from ages 15 to 20, and that in every case a nurse told the mother that her child had died but that she could not view the child's body.
Sources:
http://www.cbsnews.com/news/was-former-st-louis-hospital-site-for-baby-selling-ring/
http://www.blackpast.org/aah/homer-g-phillips-hospital-1937-1979