Gang leader Stephanie St. Clair was known for operating numerous criminal enterprises in Harlem, New York in the early part of the 20th century. She fought against the interest of the Mafia for many years after Prohibition ended; she continued to work on her own and never fell under the control of the Mafia.
St. Clair was born on Martinique, an island located in the Caribbean. She later came to the United States through Marseilles, France and arrived in Harlem in 1912. She spoke both French and Spanish, but told people she was born in France. She was often described as being arrogant, sophisticated, and smart to the ways of urban life, and was known to have a fiery temper and spit profanity in various languages when angered.
People throughout Harlem referred to her as "Madame St. Clair," and throughout the rest of New York City she was known as "Queenie." St. Clair opened the first numbers bank located in Harlem. She partnered with Ellsworth "Bumpy" Johnson and together they made their fortunes. During the 1930s, there was very little competition, but after the Great Depression began and Prohibition ended in 1932, a significant of White New Yorker mobsters saw that their profits were fading. The mobsters, led by Dutch Schultz, turned to the Harlem illegal gambling scene to supplement their loss of revenue.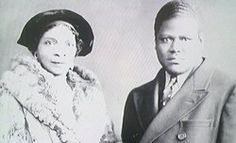 The non-Harlem gangsters engaged in a bloody war with St. Clair and her allies for control of organized crime throughout the community. Over 40 people, mainly the Harlem number operators, were killed in gang-related violence during the time. Despite the violence against their operation, St. Clair and "Bumpy" initially refused to surrender to the Dutch.
By the 1940s, "Bumpy" Johnson was the reigning king in Harlem while St. Clair became less and less involved in the numbers game. She died quietly and still wealthy in Harlem in 1969.
source:
http://www.blackpast.org/aah/st-clair-stephanie-1886-1969