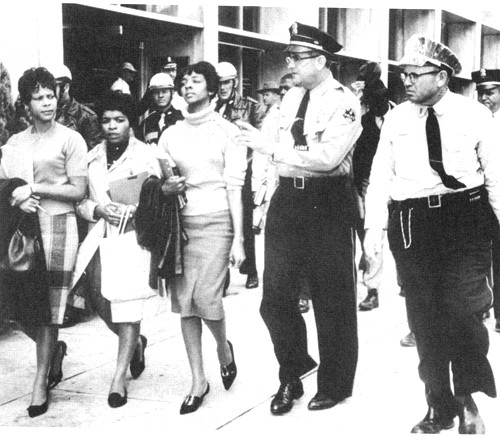 On March 27, 1961, nine Tougaloo College students, dubbed as the Tougaloo Nine, Joseph Jackson, Jr., Geraldine Edwards, James Cleo Bradford, Evelyn Pierce, Albert Lassiter, Ethel Sawyer, Meredith Coleman Anding, Jr., Janice L Jackson, and Alfred Lee Cook attempted to integrate the Jackson Municipal Library, sparking a civil rights movement in Jackson, Mississippi.
Students were trained on the Tougaloo College campus on how to handle voter registration drives. There were numerous events such as sit-ins and Freedom Rides that were planned at the school. The Tougaloo Nine were members of the NAACP Youth Council.
The students first went to the "colored" library and asked for books they knew were not there. They left and went to the larger library for white patrons, quietly entering, searching through the card catalog, sat at tables and wrote notes from reference books.
The police arrived and asked them to leave. The Tougaloo Nine refused and were arrested for disrupting the peace under the provisions of a 1960 state law; which stated it was unlawful for any member of a crowd to refuse to leave a public place when ordered to do so by authorities. The nine spent 30 hours in jail, were found guilty of disturbing the peace, fined $100, and received a 30 day suspended sentence.
After hearing about the arrests of their fellow schoolmates, students from Jackson State gathered and marched to the jail in support. The group was attacked with tear gas, clubs, and dogs.  Students from Tougaloo have attacked again during a sit-in at the Woolworth's in Downtown Jackson in May of 1963.
Sources:
http://www.thehistorymakers.com/biography/dorie-ladner-41
video:
Youtube