At the age of 20, Anne Raven Wilkinson became the first African-American woman to receive a contract to dance full time with a major ballet company, the Ballet Russe de Monte Carlo of New York City.
Raven Wilkinson was born in New York City on February 2, 1935, to Anne James Wilkinson and Dr. Frost Bernie Wilkinson, a dentist. Her family, which also included younger brother Frost Bernie Wilkinson Jr., lived in a middle-class neighborhood in Harlem.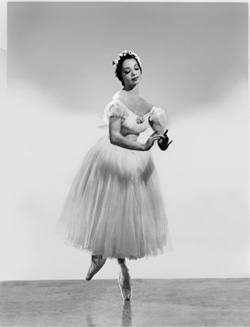 Wilkinson began studying with a well-known Russian dancer when she was nine. After being inspired by seeing Janet Collins on stage in the early 1950s, she left school in her teens to pursue ballet full time. Due to racism, she was often discouraged from auditioning by other students. Yet, after two rejections, she was accepted to the Ballet Russe de Monte Carlo on a six-week trial basis in 1955. Wilkinson and her parents were told that they were not to let the public know she was black.
During her first six weeks with the Ballet Russe and many times after that, the company performed in locations throughout the segregated South, staying in segregated hotels and successfully keeping Wilkinson's race a secret. She was required to wear white make-up out on stage. Years later, she was denied a hotel stay because a hotel owner asked her if she was black and Wilkinson refused to lie.
Racial discrimination increased for her on just about all levels. The company's director prohibited her from dancing in certain towns and to sent her to other cities where she could safely wait for the company's arrival. After she had been with the Ballet Russe for several years and had achieved great success, Wilkinson was told that she was unlikely to go any further in ballet. She was advised to consider leaving the company to start a school of African dance.
Wilkinson eventually left the company after years of hard work. She stopped dancing for several years and taught ballet to others. She also joined a nunnery for about six months. In the mid-1960s, after performing in Washington, D.C. with a member of Holland's National Ballet, Wilkinson was invited to join that company. She went to Holland in the fall of 1967 and did not return to the US until 1974.
sources:
http://www.aaregistry.org/historic_events/view/raven-wilkinson-ballet-pioneer
http://www.blackpast.org/aah/wilkinson-anne-raven-1935