With so many men going overseas during World War II, the government needed ways to get additional help. In the Navy their solution was to create the WAVES (Women Accepted for Volunteer Emergency Service) in 1942.  By creating it as an "emergency" service, the Navy was able to admit women to serve during the war years but at the end of the war the plan was that the women would be discharged.
In November 1944, two women became the first African-American female officers in the WAVES.  Harriet Ida Pickens and Frances Wills graduated from the Naval Reserve Midshipmen's School (Women's Reserve) at Northampton, Massachusetts.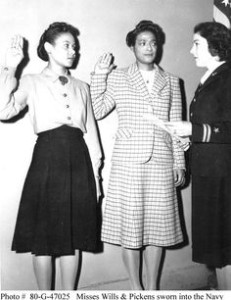 From the fall of 1944 onward, the Navy trained roughly one #black woman for every 36 white women enlisted in the WAVES; this was about 2.77 percent, below the 10 percent cap agreed upon by the armed services in 1940.
Harriet Ida Pickens' jacket is currently on display as part of the New-York Historical Society's exhibit, WWII and NYC.
Read More Of This Article @http://americacomesalive.com/2013/02/11/frances-wills-and-harriet-ida-pickens-first-african-american-women-to-become-waves-officers-1944/#.ViRoIlqEnAc