James Banning was the first African-American male aviator to receive a pilot's license. Banning was born in 1899. As a young adult, his family moved to Ames, Oklahoma. He enrolled at Iowa State and majored in electrical engineering. He tried to enroll in flight schools and was often denied due to the fact that he was black.
Banning eventually learned to fly through a U.S. Army pilot. After he completed training, Banning received his pilot license from the U.S. Department of Commerce. He moved to Los Angeles in 1929 and served as the chief pilot for Bessie Coleman's Aero Club. He flew his own plane, affectionately called "Miss Ames" after his former home in Oklahoma.
He teamed up with his friend, mechanic Thomas Allen, in order to purchase a plane that was made from old junkyard parts. The men, affectionately called the "Flying Hoboes," used the plane to fly coast-to-coast, making headlines along the way. The trip, which was 42 hours long, took 21 days to complete because the men stopped continuously to raise money to continue their journey.
Flying became a way of life for Banning. He often performed in airshows and would transport political officials when necessary. One of his most well-known passengers at the time was the first black person elected to serve in the United States Congress, Oscar Depriest.
Unfortunately, tragedy struck and Banning lost his life at the age of 33. During a San Diego airshow that was being held to raise money for a trip back East, the plane went into a tailspin after climbing 400 feet from the takeoff. Banning was actually in the passenger seat, while Albert Burghardt, a white pilot, flew the plane. The plane crashed at Camp Kearney. Banning was killed in front of a crowd of 2,000 spectators.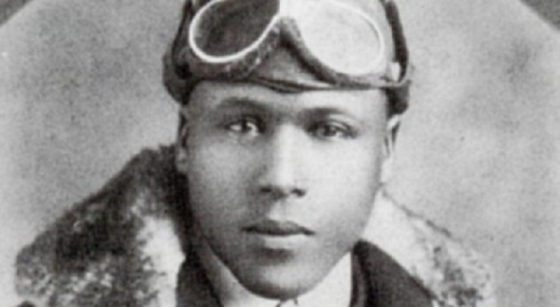 sources:
https://en.wikipedia.org/wiki/James_Banning
http://aaregistry.org/historic_events/view/james-banning-aviation-first